Indoor TV antennas are easy to install, unobtrusive and effective. They are ideal for apartment living, for setting up a TV in a caravan or boat and for situations where you can't install outdoor antennas.
There are now many brands and styles of indoor TV antennas available but they won't all have the same effect so picking one that will work for your home and location is essential. The below reviews and buyers guide will help you find the best TV antenna setup for your situation.
---
The Sansai Indoor Antenna is a reliable and effective option that is suitable for homes as well as in more remote environments, such as caravans. Its built-in amplifier means it can get a signal when other antennas would struggle.
It works with a wide range of bands including UHF, VHF, FM, and HDTV. This antenna also features an adjustable gain control and variable tilting action for fine-tuning.
---
This Indoor Digital TV Antenna from Crest is an impressively thin, concealable design that can easily blend into the decor of your home. If you're looking for an indoor antenna that is reliable and does its job without being an eyesore or getting in the way, this is it.
The antenna is quick and easy to install. It may be slim and subtle but it doesn't cut corners on features, it offers a power boost with mains adaptor and high gain strength.
This antenna is suitable for homes up to 20km away from a TV tower. The set comes with adhesive pads and suction cups so you can position it as it best suits you.
---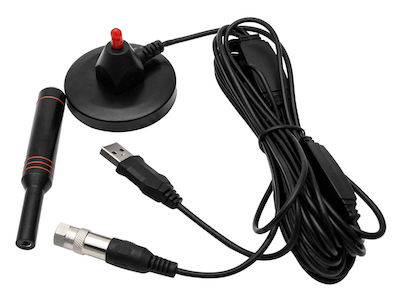 This small, compact and lightweight antenna is suited for use in caravans, cars, boats, motorhomes, trucks and homes. It is a portable indoor outdoor solution that can be used just about anywhere.
It is designed for digital reception and can be used with almost any portable or living room television. The magnetic base attaches to metal objects and uses their surface to enhance the quality of the reception.
The set includes a standard coaxial cable that suits Freeview ready devices, rubber feet for paint protection and a passive aerial.
---
This HDTV Digital Antenna is ideal if you are located quite a distance from a broadcast tower as it can reach up to 120 miles thanks to the included amplifier.
The antenna gives you access to free high definition channels and will work almost anywhere within your home. The smart black design is small and discreet so it will easily blend with your decor.
It is simple to install this antenna and if you are located more than 35 miles away from a broadcast tower you can plug in the included amplifier to get extra range and a stronger signal.
---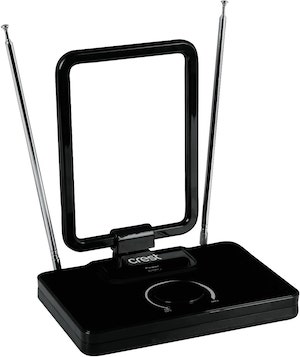 This indoor digital TV antenna from Crest is best suited for people looking for an antenna they can adjust to improve the signal.
The unit has two adjustable antenna rods and a moveable UHF loop allowing you to fine-tune the signal strength for the best results. It is suited for people up to 20km away from a broadcast signal tower.
The cable is 1.35 metres giving you space and flexibility to place the antenna where it can get the best signal. It also has a power boost with mains adaptor.
---
The One For All HD Antenna is a great all-round option that offers high quality and comes with multiple features to give you the best viewing experience.
This antenna provides excellent reception of digital TV and is fully HD compatible. The antenna is tiltable so you can optimize it to suit the location and position of the indoor tv antenna.
Another useful feature is the unique 3G/4G block filter that stops mobile phone signals from interrupting the reception. It also offers manual gain control up to 45dB.
---
Indoor TV Antenna Buyer's Guide
Some antennas work great while others seem to hardly work at all. Searching through the selection of indoor tv antennas can be confusing but once you know what to look for selecting the best one for your needs and location will not be an issue. Indoor antennas have come a long way from what they used to be; modern options are effective, sleek and stylish.
RELATED:
Indoor antenna type
Log periodic – this fan-like antenna is similar to common outdoor antennas. They can pick up weak signals over long distances but you normally need to point these antennas direct to the transmitter for them to be effective.
Monopole – these pole antennas usually have a stable round base. The signal quality is not too impacted by positioning as the monopole is omnidirectional.
Flat-panel – these sleek, slim panels can lay flat, be positioned using a stand or can be attached to a wall or window. They don't need to be aligned to pick up a signal but where they are positioned can make a big difference in the TV signals received.
Loop – these generally sit on top of the television. They are omnidirectional but the signal needs to be strong for a loop antenna to be effective.
RELATED:
Important Considerations
Cable length – the cables should be long as this gives you the flexibility and freedom needed to place the antenna where it is needed.
Stand/ mounting options – check if the set comes with a stand or any mounting options.
Signal amplifier – an amplified antenna can boost the signal to provide you with a better experience. Amplifiers tend to be useful if you live far away from a transmitter and normally struggle to get good antenna reception.
Portability – if you plan on using the antenna on the go you will want it to be small, lightweight and easy to move.
Ease of installation – indoor antennas should be quick and easy to set up and install. Most of them just need to be plugged in, positioned and then the stations, channel selection and broadcasts should be available.
Signal blockers – a signal blocker can help stop interference from mobile phones.
---
TV Antenna FAQs
Where should I place my indoor antenna?
For the best indoor antenna TV reception, place the antenna high up and in or near a window.
Why is my antenna not finding channels?
If your indoor HDTV antenna is not picking up channels it could be caused by poor alignment, insufficient range, faulty cabling, improper noise mitigation or incorrect TV settings. When your antenna is properly set up, make sure you search for channels via "antenna" rather than "cable" when tuning your TV.
How can I check TV signal strength in my area?
You can find your nearest TV transmitter via a quick online search and you can check the signal strength of your own TV in the TV settings menu.
---
Related Posts: