Indoor TV antennas are easy to install, unobtrusive and effective. They are ideal for apartment living, for setting up a TV in a caravan or boat and for situations where you can't install outdoor antennas.
There are now many brands and styles of indoor TV antennas available but they won't all have the same effect so picking one that will work for your home and location is essential. The below reviews and buyers guide will help you find the best TV antenna setup for your situation.
---
1. Sansai Amplified Indoor TV Antenna (Top Pick)
The Sansai Indoor Antenna is a reliable and effective option that is suitable for homes as well as in more remote environments, such as caravans. Its built-in amplifier means it can get a signal when other antennas would struggle.
It works with a wide range of bands including UHF, VHF, FM, and HDTV. This antenna also features an adjustable gain control and variable tilting action for fine-tuning.
What We Like:
Affordable
Reliable and effective
Works with a wide range of bands
What We Don't Like:
Less attractive appearance than some other options
---
2. Crest Indoor Digital TV Antenna
This Indoor Digital TV Antenna from Crest is an impressively thin, concealable design that can easily blend into the decor of your home. If you're looking for an indoor antenna that is reliable and does its job without being an eyesore or getting in the way, this is it.
The antenna is quick and easy to install. It may be slim and subtle but it doesn't cut corners on features, it offers a power boost with mains adaptor and high gain strength.
This antenna is suitable for homes up to 20km away from a TV tower. The set comes with adhesive pads and suction cups so you can position it as it best suits you.
What We Like:
Concealable design
Reliable
Excellent value for money
---
3. Indoor & Outdoor Digital DVB-T TV Freeview Aerial Amplifier (Best Value)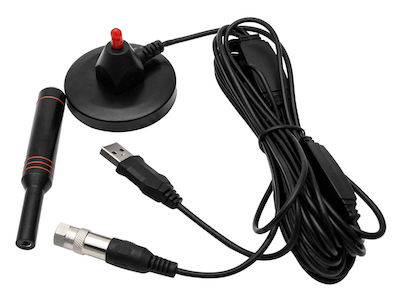 This small, compact and lightweight antenna is suited for use in caravans, cars, boats, motorhomes, trucks and homes. It is a portable indoor outdoor solution that can be used just about anywhere.
It is designed for digital reception and can be used with almost any portable or living room television. The magnetic base attaches to metal objects and uses their surface to enhance the quality of the reception.
The set includes a standard coaxial cable that suits Freeview ready devices, rubber feet for paint protection and a passive aerial.
What We Like:
Compact and portable
Magnetic base
Easy to use
What We Don't Like:
Some users may find that not all channels are received 
---
4. HDTV Digital Amplified Indoor TV Antenna
This HDTV Digital Antenna is ideal if you are located quite a distance from a broadcast tower as it can reach up to 120 miles thanks to the included amplifier.
The antenna gives you access to free high definition channels and will work almost anywhere within your home. The smart black design is small and discreet so it will easily blend with your decor.
It is simple to install this antenna and if you are located more than 35 miles away from a broadcast tower you can plug in the included amplifier to get extra range and a stronger signal.
What We Like:
Great for long distances
Small, discreet design
Simple to install
What We Don't Like:
The included adhesive may not be strong enough to hold the antenna securely in place
---
5. Crest Indoor Digital TV Antenna Power Boosted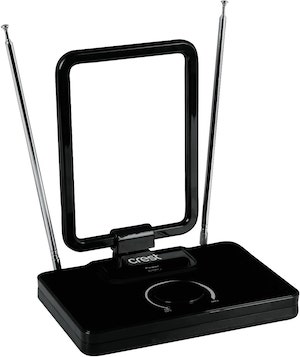 This indoor digital TV antenna from Crest is best suited for people looking for an antenna they can adjust to improve the signal.
The unit has two adjustable antenna rods and a moveable UHF loop allowing you to fine-tune the signal strength for the best results. It is suited for people up to 20km away from a broadcast signal tower.
The cable is 1.35 metres giving you space and flexibility to place the antenna where it can get the best signal. It also has a power boost with mains adaptor.
What We Like:
Adjustable antenna rods
Up to 20km
Fine-tune the signal
What We Don't Like:
Appearance is slightly dated
---
6. One For All HD Indoor Antenna
The One For All HD Antenna is a great all-round option that offers high quality and comes with multiple features to give you the best viewing experience.
This antenna provides excellent reception of digital TV and is fully HD compatible. The antenna is tiltable so you can optimize it to suit the location and position of the indoor tv antenna.
Another useful feature is the unique 3G/4G block filter that stops mobile phone signals from interrupting the reception. It also offers manual gain control up to 45dB.