Buying quality hair clippers is a great way to save time and money and have freedom over your style. There's lots of options available and when you know what to look for it's easy to find inexpensive, high quality clippers that'll last you many haircuts. The reviews and buying guide below will help you find the best hair clippers in no time.
Here are the best hair clippers:
---
1. Philips Washable Series 5000 – Best Cordless Hair Clippers
The Philips Series 5000 haircut clippers are easy to use and built to last. They have self-sharpening titanium blades to ensure long-lasting, high-quality performance.
These clippers can be used corded or cordless; 1 hour charge gives 90 minutes of cordless power so plenty of time for hair cutting sessions. There's also a turbo power button for when you want to boost cutting speed or make light work of thicker hair.
The clipper kit comes with 2 adjustable combs that allow 28 adjustable lengths. Impressively, it is 100% washable so you can put the whole device under the tap for quick and easy cleaning.
What We Like:
Durable titanium blades
Corded or cordless use
28 length settings
100% washable

 
What We Don't Like:
Some users may find the controls are fiddly
---
2. Wahl Salon Series V7000 – Best Corded Hair Clippers
The Wahl V7000 clippers are one of our top picks because they offer professional quality at a great price. They are powerful and heavy duty with a polished, durable feel.
These clippers give the best home haircut thanks to a self-sharpening chrome-plated "crunch" blade designed for extra close cutting and an adjustable taper lever so you can customise the cutting length to suit your style.
These clippers are easy to hold and use a long-lasting motor so you can expect to be using them time and time again. They are corded so will need to be plugged in when used.
What We Like:
Professional quality clippers
Self-sharpening blade
Low maintenance
---
3. Remington Rapid Cut Turbo Hair Clippers
The Remington Rapid Cut Turbo is compact, user-friendly and gives professional results within minutes. The clippers are shaped differently from other options but are designed to fit comfortably in the palm of your hand letting you easily follow the natural contours of your head as you cut.
An at home clipper haircut is made easy as the blades are broad and curved to give better coverage and the kit comes with 12 comb guides for style and length versatility. These clippers can be cleaned by simply rinsing under water when you're done.
This adjustable clipper takes 4 hours to fully charge and gives you 70 minutes of cutting time. If you have forgotten to charge them then a 5 minute quick charge will give you 2 minutes of run time. The set comes with comb guides, lubricating oil, one cleaning brush and a storage pouch.
What We Like:
Compact size
User-friendly
Professional results
---
4. Wahl Cordless Groom Pro Hair Clipper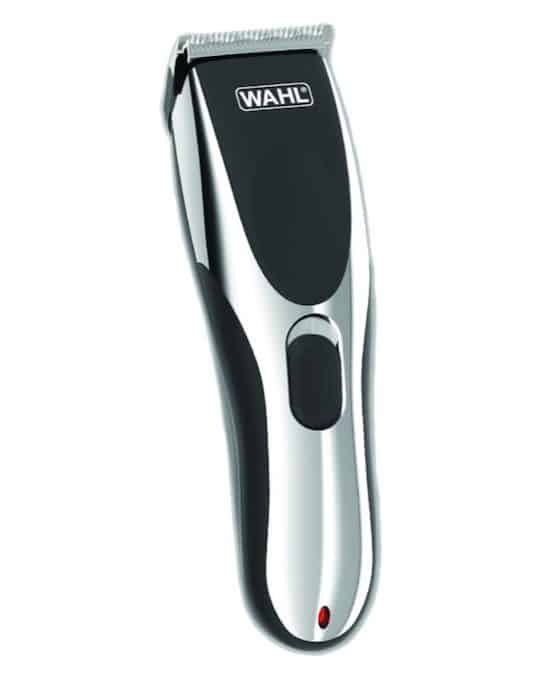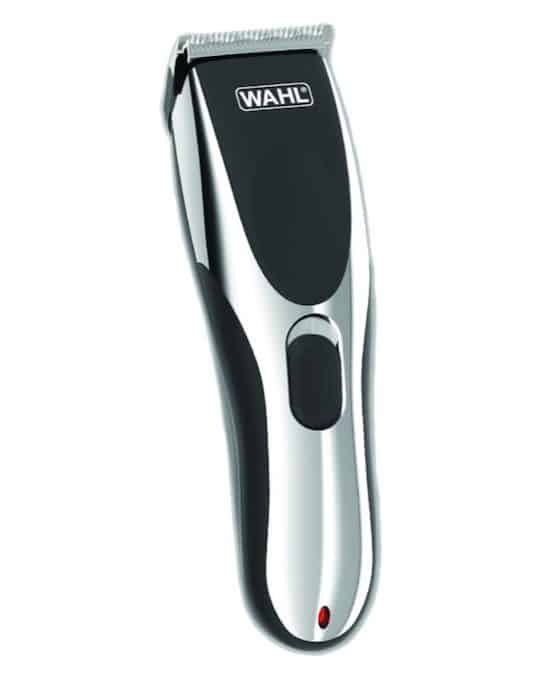 The Wahl Cordless Groom Pro Hair Clippers are lightweight, cordless and easy to use. They have a comfortable grip that gives you ultimate control while cutting.
The blades are high carbon steel and they are precision ground for high performance. The run time on a full charge is 60 minutes and the blades are detachable and rinsable for easy maintenance.
This clipper is cordless but it can be mains powered if you're low on time and the unit isn't charged. The full kit comes with 20 pieces including 10 comb attachments, left and right ear tapers, a clipper guard, scissors, a brush for cleaning, clipper oil, charger and a carry case.
What We Like:
Comfortable and lightweight
Durable
Can be used corded or cordless
What We Don't Like:
No indicator to let you know when clipper is fully charged
---
5. Surker Hair Trimmer/Hair Clippers (Best Budget Option)
If you're looking for low cost clippers that can be used corded or cordless, the Surker hair trimmers are a good option. They are slimline so are comfortable to hold and use. The LED display clearly shows the cutting length setting and the battery capacity so you always know how much battery life is left.
The blade is wear-resistant titanium ceramic and can be washed with water. For convenience, it only takes 1.5 hours to fully charge and the charge lasts one hour. They can be charged using the adapter or on the charging stand.
These clippers cut smoothly without snagging and come with a kit of 7 combs varying from 4-6mm to 28-30mm. They are affordable, convenient and quiet to use.
What We Like:
Quick charge
Corded or cordless use
Slimline
What We Don't Like:
Some users may find the blade to be not as sharp as other options
---
6. VS Sassoon Crew Cut Hair Clipper
The VS Sassoon Clipper is ideal for cutting hair short. The shape is not the same as your conventional clipper but is designed to fit in the palm of your hand so you can easily hold the clipper and move it around your head.
As it uses a rotating cutting action it cuts in any direction quickly and smoothly. The clipper is great for short styles and the included finishing trimmer helps to trim and tidy up around the ears, neck and sideburns to ensure a good blend and professional finish.
The high performance motor and self-sharpening steel blades gives the power and quality needed for a precise cut.
What We Like:
Rotating cutting action
Compact style
Great for maintaining a short cut
What We Don't Like:
Some users may find this clipper to be less durable than other options
---
7. Wahl Lithium Pro LCD Hair Clipper
The Wahl Lithium Pro LCD Hair Clipper is lightweight and easy to use. The LCD display clearly indicates the remaining battery life so you know when the hair clipper needs a charge. There's also a very handy quick charge for those emergency hair cuts where 1 minute of charge gives 3 minutes of use.
You can use the clippers when they are plugged in too which is a useful option to have. The stainless steel blades are precision ground and can be clipped on and off for easy cleaning.
The set also comes with 6 guide combs, scissors, a styling comb and a selection of accessories. The hair clippers are durable and come with a storage case.
What We Like:
LCD indicated remaining battery life
Quick charge option
Easy cleaning
What We Don't Like:
Smallest attachment is 3mm
---
Hair Clippers Buyer's Guide
With so many brands and types of hair clippers available it can be confusing to figure out which is the best clipper for you. To help you out we have outlined some key features to consider:
Corded or cordless?
Corded models are used when they are plugged in while cordless models have a rechargeable battery.
Corded is a good option for nonstop operation, they are always ready to use as long as there is a plug nearby and will work for the full amount of time you need them. If you want a corded clipper make sure there is enough cord length to comfortably manoeuvre.
Cordless gives you the freedom to cut your hair anywhere as well as more freedom of movement. They can usually be rinsed under water to be cleaned too. If you are looking at cordless models be sure to find out the battery life of the clipper.
Blade material
The blade quality is important as they need to be strong, sharp and durable.
Common materials:
Steel, stainless steel, chromium steel, japanese steel or carbon steel blades
Ceramic blades
Titanium blades
Some blades are self-sharpening which makes maintenance even easier.
RELATED:
Body and weight
Are they comfortable to hold? Some clippers can be quite bulky and heavy making them tiring and awkward to use.
Are they portable? Compact designs are convenient for taking your clippers with you when traveling.
Noise level
Generally good quality clippers will produce a quiet hum whereas low quality options will be considerable noisier.
Grades or Guide Combs
How many are included? Does it give you a good choice of lengths? Here's a guide to help make sense of grades.
Accessories
Clippers these days come with a wide range of accessories that can help you with your hair trimming tasks.
Common accessories include; scissors, styling comb, cleaning brush, blade oil or clipper spray and a protective case.
---
Hair Clipper FAQs
What brand of clippers do professional barbers use?
While each barber will have their own preference, Wahl is a popular brand for professional use as they are trusted, reliable and high quality. Oster and Andis are also both popular with professional barbers.
When should I oil my clippers?
Clippers should ideally be oiled with each use. Oiling the clippers helps to keep them running smoothly and will help them last a long time.