A quality garden hose will make tending to the garden easy and hassle free. Not all hoses are the same; cheap, poor quality hoses are prone to kink, break and leak water whereas high quality options are durable, UV and abrasion resistant and built to last. Below is a review of the best hoses available and a garden hose buying guide to help you choose the right one for your garden.
Here are the best hoses in Australia:
---
1. Hoselink Retractable Hose Reel (Top Pick)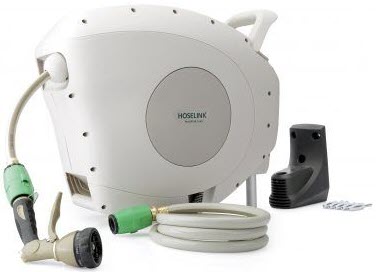 Our top pick is the impressive Hoselink Retractable Reel, an automatic retracting hose set that makes watering your plants easy and enjoyable. The storage unit is sturdy, durable and can be slotted in and out of the wall bracket for portability and convenience.
The hose is available at 4 different lengths (15m, 20m, 25m and 30m). The "Stop Anywhere" locking mechanism means you can pull the hose to the required length and the reel will lock to avoid having excess or tangles.
Once you are finished, a gentle tug will engage the automatic rewind system which pulls the hose back into the housing and the self-layering system makes sure it goes back neatly. The 180 degrees rotation gives flexibility and ease of use, no matter where you walk it automatically aligns with your direction. This set is user friendly and makes working outside effortless. It should also last a long time thanks to the sturdy design.
What We Like:
High quality
Automatic rewind system
180 degree swivel bracket
What We Don't Like:
A little on the bulky side
---
2. Hozelock Auto Reel with 20m Hose
The Hozelock Auto Reel is easy to use, tidy and durable. The UV stabilised wall mounted unit provides an easy to store solution that not only keeps your garden tidy but also keeps the hose properly stored and protected ensuring it lasts for a long time.
When using the anti-kink hose, it smoothly and easily unwinds, automatically locking when you stop. When you're finished, the auto-rewind starts when you tug the hose; it uses a braking system to control the speed and a layering system to make sure it is stored neatly.
The wall bracket allows an 180 degree pivot so you can reach all areas of the garden with minimal effort. A thoughtful feature is the integrated child lock that stops kids from playing with the hose unsupervised. There is also a leak-free space in the housing unit to neatly store the feeder section away so everything is kept in one tidy package ready for next time.
What We Like:
Easy installation
Automatic rewind with braking and layering system
Integrated child lock
---
3. Hoselink Superflex Garden Hose + Premium Ned Kelly Kit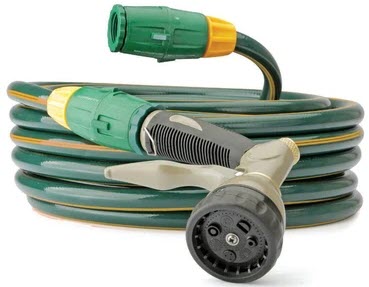 The Superflex Garden Hose from Hoselink makes working in the garden so much easier. The thick walls of the hose pipe stops kinks from forming and the material used has a high resistance against abrasion so you can drag it along the ground without causing damage.
High quality construction means this hose is built to last and the set comes with no-burst hose fittings and a 7 function spray so you have everything needed to get started. The swivel function on the spray means you can point the water spray wherever you need to without the hose pipe twisting.
It's built to retain its shape and is UV stabilised so won't be damaged by the harsh Australian sun. If you're looking for a durable hose that can handle your outdoor work for years to come without kinking or showing signs of wear and tear, this is an excellent option.
What We Like:
Durable, high quality materials
Does not kink
UV stabilised so wont be damaged by the sun
What We Don't Like:
Does not come with a reel
---
4. Hoselink Classic Garden Hose – Fitted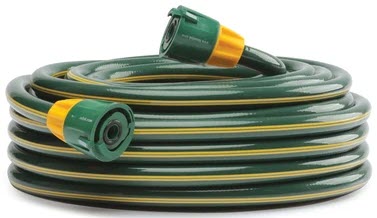 This classic hose from Hoselink is high quality, kink-resistant and ideal for everyday use. This is a great option if you a looking for a lightweight, user-friendly and durable rubber hose that is suitable for people of all ages and strengths.
There are 2 connectors fitted at each end of the hose so you don't need to worry about any fiddly jobs. The pipe is flexible while also kink resistant and it is reliably strong so won't burst or break under high water pressure.
As the hose is abrasion resistant and is protected from UV rays it is ideal for Australia as it can handle the strong sunlight and any tough environmental conditions thrown at it.
What We Like:
Durable
Flexible and kink resistant
Lightweight
What We Don't Like:
Additional parts are required
---
5. Greenfingers 30M Retractable Hose Reel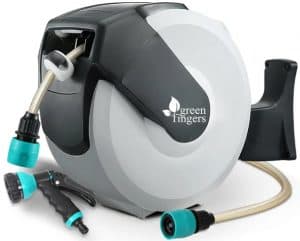 If you are looking for a smart, compact and sturdy reel, the Greenfingers auto-retract hose offers an effortless solution. The set looks great, the wall-mounted unit is a cool grey colour and the fittings are made from brass.
Both the hose and the housing are UV resistant to suit all conditions and ensure the equipment lasts a long time. For convenience, the set comes with a 7 action spray gun and the wall mount has a 180 degree swivel so wherever you need to walk, the housing will swivel to face the direction you are going in.
The system allows hassle free unwind and rewind, it uses an incremental locking system so you can pull just the amount of hose you need. When the hose is being pulled in by the automatic rewind system, the internal guiding system makes sure it is wound neatly with no kinks.
What We Like:
Hassle free
Automatic rewind
Looks smart
What We Don't Like:
There is nowhere to store the 2m of feeder hose when not in use
---
Garden Hose Buyer's Guide
There are a variety of hoses products available; from the regular hoses we have reviewed to sprinklers or soaker hoses. When comparing the best garden hoses, consider the following key features to help narrow down your search:
Length – you want to choose a length that matches or is slightly longer than the length of your garden. You don't want to buy a hose for it then not to reach the far side of the garden. With that said, don't buy a long hose when you don't need it as you will end up paying more for no reason. Also, consider hose diameter.
Material – the standard options are a rubber garden hose or a vinyl hose. Vinyl is cheaper, lighter and convenient but is also less durable and more susceptible to breaks. A rubber hose tends to be the best option as it is more robust and will last a lot longer than vinyl but is also more expensive.
Anti-kink – hose kinks can impact the effectiveness and durability of your hose, kinks make bursts and splits more likely to occur. Anti-kink hoses are best but make sure they are still flexible for ease of use.
Strength – look for a hose that can handle a pressure of at least 350psi, this is a good strength for the average requirements of garden hosepipes.
Fittings – plastic fittings tend to be cheaper but are more likely to break and crack. Brass fittings and metal fittings are far more robust but can be more fiddly to attach.
RELATED:
Do you need a hose, a reel or both?
If you are buying a reel consider if you'd like it to be; manual or automatic, wall mounted or portable and covered or open.
Will you be using the hose for drinking water?
If so, look for hoses that are marked as drinking water safe as many standard hoses leach chemicals meaning the water is not suitable for drinking.
---
Garden Hose FAQs
How long do garden hoses last?
A quality garden hose should last 5 – 10 years.
Does hose length affect water pressure?
Yes, the hose length will affect flow rate and water pressure. The water flow rate decreases as the length of the hose increases. However, this only has a noticeable impact on very long hoses and the impact on the pressure level of water in garden lengths should be minimal.
Are retractable hoses any good?
Yes, a high-quality retractable hose offers a simple and efficient way to use a hose without all of the hassle. They are a great way of keeping your garden tidy, your hose properly and neatly stored and the gardeners in the family happy.
Does Bunnings stock Hoselink?
At the time of writing, Bunnings Warehouse does not stock Hoselink products. They do, however, have a wide range of other brands including Pope, Nylex, and Acqua Systems.