A foot spa is a great gift for yourself or a loved one. Soaking and massaging your feet in a spa can be a luxurious way to relax and get rid of aches, pains and tension after a long day. Thanks to the wide range of foot spas available, pampering doesn't need to be reserved for expensive spa days anymore.
The best foot spas are affordable, easy to use and long-lasting. With so many foot massagers available it can be tough to decide between them, the following reviews and buyer's guide can help you pick out the best one.
---
1. Homedics Tru-Heat Foot Spa (Top Pick)
The HomedicsTru-Heat is a 4-in-1 spa offering heat, deep-tissue massage, vibration massage and magnetic therapy. The spa is large enough for bigger feet (up to UK size 12) so it can be enjoyed by the whole family.
The integrated heater keeps the water warm so you can sit back and relax for up to 60 minutes. The acu-nodes stimulate the soles of your feet and the massage rollers work away any tension. There are also two pumice stones to get your feet soft and feeling great.
The control panel is easy to use with heat, massage and bubble buttons and a timer that you can set for 30, 45 or 60 minutes. Once you're finished the foot bath is easy to empty thanks to the water spout.
What We Like:
4-in-1
Suitable for larger feet
Keeps the water warm

 
What We Don't Like:
The temperature is not adjustable
---
2. Beurer Foot Bubble Spa with Aromatherapy
This foot spa bath massager from Beurer combines massage with aromatherapy and has a handy container for your favourite bath salts to go in.
The bath offers bubble and vibration massage and it comes with 3 pedicure attachments so you can massage your feet, stimulate the reflex zones or remove dead skin by switching the attachments. This model also offers infrared therapy and there are 16 integrated magnets for magnet therapy too.
This aromatherapy foot spa keeps the water warm and has an insulated thermal wall to help maintain water temperature. All of this comes together to soothe all of your senses and the set comes with a removable splash guard for ease of use too.
What We Like:
Aromatherapy container for baths salts or crystals
Includes magnetic therapy
Soothes all your sense
What We Don't Like:
Can be quite loud when switched on
---
3. HoMedics FB625HAU Shower Bliss Foot Spa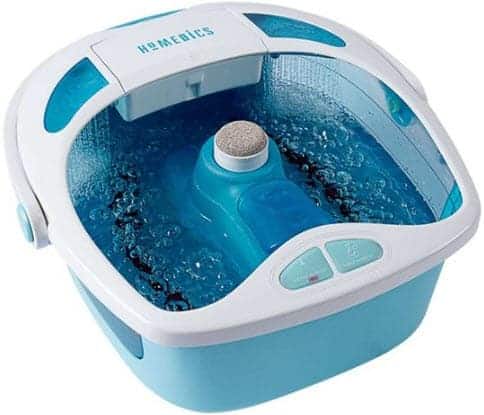 If you're looking for a foot spa that can heat cold water in minutes and massage your feet with bubbles and jets, the HoMedics FB625HAU is worth a closer look.
Most spas can only maintain the temperature of already warm water but this unit can quickly heat cold water and will maintain the temperature while you are relaxing. The comfort gel footrest provides cushioning for your feet and the bubble massager and shower massager work to soothe and relax you.
The set comes with 3 pedicure attachments so you can pumice, cleanse and massage your feet as needed. The built-in compartment is convenient as you can store the attachments safely when not in use. There is also a handle so you can easily pick the unit up and carry it comfortably.
What We Like:
Heats cold water
Bubble and shower massagers
Handle for easy carrying
What We Don't Like:
Only 2 control options (bubbles and shower massage)
---
4. Beurer FB50 Deluxe Foot Bubble Spa with Motorised Attachments
The FB50 from Beurer is a high-end foot spa that offers 5-level water heating, magnetic field therapy and motorised attachments.
You can set the water temperature between 35 degrees C and 49 degrees C and the dual walls help to keep heat in. There are soothing infrared light spots and the set comes with 3 interchangeable pedicure attachments too.
The LED display can be used to adjust the water temperature and the timer which can be set between 20-60 minutes.
What We Like:
Ability to adjust the water temperature
LED display
Comes with 3 pedicure attachments
What We Don't Like:
The massage rollers do not rotate automatically
---
5. Puli Foot Spa Massager
The Puli Foot massager offers a salon-quality spa with adjustable water temperature, bubble massage and scraping massage features.
This spa has automatic thermostat control with over-heating protection. You can adjust the temperature between 35-43 degrees C.
The controls are easy to use with the on/off button, temperature set, timer and bubble control buttons clearly labelled. There is also a handy built-in medicine, soap and soaking box.
What We Like:
Adjustable water temperature
Over-heat protection 
Easy to use controls
What We Don't Like:
Using bath salts is not recommended
---
6. Conair Foot/Pedicure Spa with Vibration
This Conair Foot Spa has a deep basin so you can fully immerse your feet in the water.
The controls can be operated by toe-touch so you don't have to lean down to turn the vibration or heat on or off. The spa maintains the temperature of the water so you can enjoy cold, warm or hot water for the duration of your massage.
The textured bottom and vibrating nodes give a deeper foot massage. The massage rollers are removable so you can adjust the massage intensity to suit you. The 6-foot power cord gives you enough space to move the foot spa to where you'd like it for ultimate relaxation.
What We Like:
Deep basin
Toe-touch controls
Gentle vibration element
What We Don't Like:
Does not heat water just maintains the temperature
---
7. HoMedics FB45AU Pedi Spa Foot Spa
This low-cost foot spa from HoMedics is perfect for giving warm water foot massages. This model is user-friendly and is perfect if you're looking for a simple solution to relax tired feet.
The spa uses vibrations and raised nodes to massage feet and the infrared heat spot helps maintain the water temperature so you can sit back and relax for as long as you like.
The spa bath is large enough that your feet will be completely immersed in the water and the removable splash cover makes draining the foot spa simple.
What We Like:
Large size
Simple to use
Gently vibrates
What We Don't Like:
No water temperature control
---
Foot Spa Buyer's Guide
A foot spa bath massager is a simple way to bring relaxation and pampering into your regular routine. They can help promote blood circulation, reduce foot pain and leave your feet feeling soft. Whether you have muscle tension or pain or you are simply looking for a way to relax, a foot spa is fantastic. This guide will help you find the best foot spas that offer the settings and functions you will benefit from most.
Temperature
Some foot spas are able to keep the water temperature maintained, some are able to warm up the water and some allow you to adjust the water to the desired temperature. If you are planning to have a lengthy foot spa bath after a long day you will want the water to stay at a comfortable temperature so choosing a spa that heats up or allows you to control the temperature will be the best option.
Settings
Basic foot spas offer a simple on/off switch and another switch where you can turn the massage on or off while higher-end options give you far more control over your foot massage. You can adjust the intensity and speed of the massage, change the massage type, choose whether you want the heater on and sometimes you can even adjust the water temperature.
Size
The size of the foot bath is an important factor as you want to be able to comfortably fit your feet into it. Also, consider how deep the basin is as you want to make sure the water covers both feet entirely.
Nodes and Massagers
The base nodes are small lumps that are positioned in the bottom of the foot spa, their size and positioning varies between models. Many spas also have roller massagers that you can move your feet along to manually massage the areas that feel sore or tired, these can also be motorized rollers but this is less common. Sometimes the massage rollers are removable.
Attachments
Most foot spas come with a few attachments such as a pumice stone or pedicure kits. These attachments are great if you don't already have them but they shouldn't sway your decision as to which foot bath you choose as these extras are often inexpensive and can easily be bought separately if needed.
---
Frequently Asked Questions
Can you put Epsom salt in a foot spa?
You cannot usually put Epsom salt into a foot spa as it can damage the jets and massage system. Due to this, it is best to use a foot spa that is specifically designed to be used with salts or simply soak your feet in a bath of Epsom salts as needed.
How long should you use a foot spa?
20-30 minutes is a good guideline for a relaxing foot spa experience although there is no real-time limit so if you're enjoying it there's no reason to keep soaking your feet for a little longer, especially if the spa keeps the water warm for you. Some foot spas have an automatic timer which usually goes up to around 60 minutes.