Food processors can be the best way to make many time-consuming kitchen tasks simpler and faster. They are one of the most useful appliances any home cook can have in their kitchen. However, with so many varied options on the market, it's easy to get confused about which product is best for you.
In this article, we review 9 of the best food processors on the market today. After the reviews, we list the key things you'll want to watch out for when choosing one to ensure you end up with the best product for your needs.
---
High-quality and reliable, the Kitchen Wizz is a household favourite.
This appliance will become your most loved possession as it cuts off hours from your meal prep time. Suitable for a wide range of ingredients and recipes, the Kitchen Wizz does everything you would expect from a high-end food processor.
The powerful 1,000-watt motor chops and slices food quickly whether you use the pulse option or either speed setting. You also get two chutes that work with different ingredients: one with a wider mouth and one with a shorter shape.
With an eight-cup size, this food processor has markings on the outside that lets you see how much is inside so you can get your measurements spot on.
---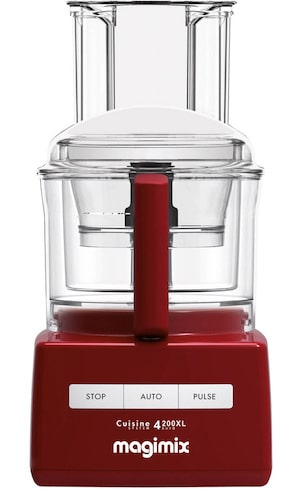 Designed to work on its own or with a Blendermix device, this food processor has a large bowl and comes with two others of different sizes for all your favourite dishes.
It is easy to operate due to the buttons on the base that turn it on and off and let you use an automatic power setting or a pulse setting. This food processor also comes with two slicing discs that let you slice carrots and other vegetables into the exact sizes that you need. You can use it for kneading dough too.
---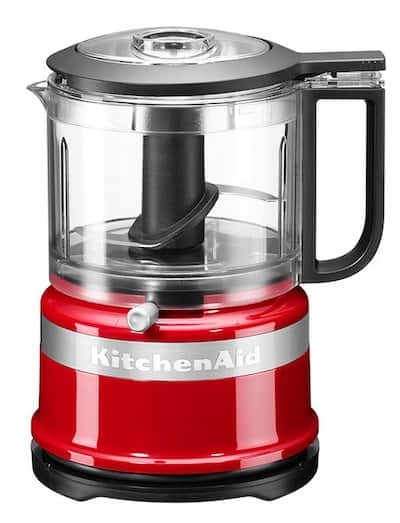 Whether you want to make salad dressing or chop carrots and other vegetables in seconds, this stainless steel chopper from KitchenAid is an excellent choice.
It comes in an Empire Red finish that adds a pop of colour to your kitchen and a blade that you can remove from the base. The blade lid and other parts are all safe to clean in a dishwasher.
With two controls, you can get the fine dice or chop that you need. It also has a removable lid that lets you add oils and other liquid ingredients.
---
The discs that fit into the base of this food processor let you both shred and slice ingredients based on how you insert them. As it comes with an integrated food tube, you don't need to worry about picking the right size to add to the top.
It has an eight-cup size and includes markings to help you measure ingredients, along with a 350-watt motor. This model also features rubber controls that you can easily use when your hands are wet and a compact design.
---
This hand blender and food processor from Braun can save space because it comes with a variety of attachments that let you do different types of cutting. It functions as a hand whisk when baking, a food processor for chopping, as well as a variety of other functions. This appliance can replace a number of the usual kitchen tools.
The Easy Click System makes setting up the tool and using the right attachment a snap. It comes with tools for kneading dough and making all your favourite savoury dishes and sweet treats.
---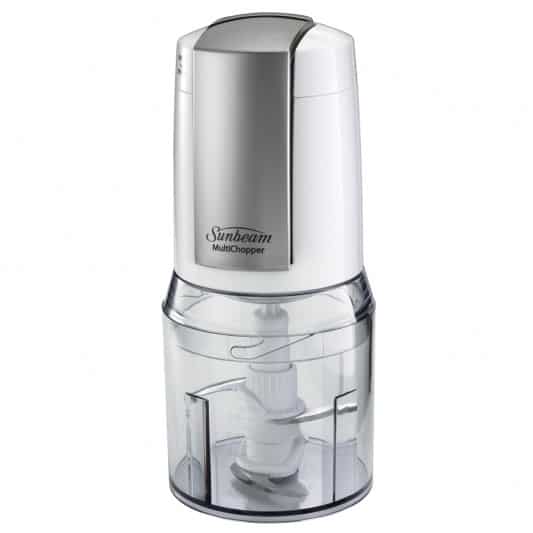 The Sunbeam Multichopper is a compact food processor that uses a double blade system to reduce processing time while ensuring an even consistency.
There are 2 speed options on this processor and the lower blades can be used independently or in conjunction with the upper blades. This gives you versatility and flexibility in your food preparation options. The large processing bowl is 500ml which offers enough room for a range of ingredients without taking up too much kitchen space.
The plastic used for this food processor is BPA free to ensure it is safe and high quality. This is one of the best food processor options for anyone looking for something simple that is easy to use and doesn't take long to clean or put together.
---
The Kenwood Multi Pro Sense is the best food processor for carrying out a range of cutting, slicing and blending tasks at the touch of a button. The set is incredibly versatile and comes with a range of specially designed attachments so you can create good food with ease.
There is a variable speed control or you can set it to auto speed where the processor will select the maximum speed for you. The glass of this blender is heatproof so you can blend hot and cold ingredients safely and easily. Whether you want to blend soup or make baby food, this food processor makes it easy to enjoy quality food in the comfort of your kitchen.
The Multi Pro Sense comes with different bowl sizes and a wide feed tube so it can handle large pieces of food, saving you time as you won't need to chop everything before putting it into the food processor. This processor also comes with a 5 year warranty for peace of mind.
---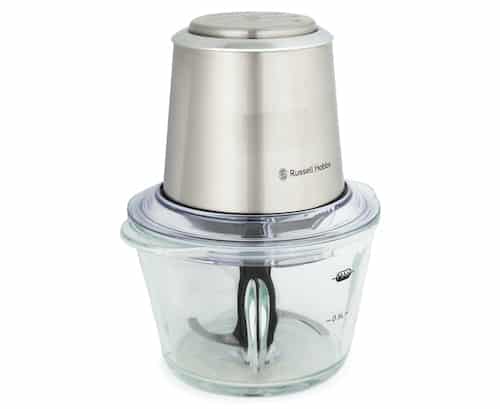 If you are looking for a compact, practical food processor the Classic Chopper from Russell Hobbs is a great option. This is best-suited to making dips, mixing salad dressings and pureeing baby food.
The 1 litre capacity is ideal for those smaller dishes and it runs on a 400W motor that is able to blend all ingredients including ice and nuts. This model is easy to clean too, the 1L glass bowl can even be washed in the dishwasher.
The housing and the S-blade are both stainless steel making them durable, long-lasting and easy to keep clean. This is a quality food processor best for chopping, pureeing and making delicious dips.
---
The Breville Kitchen Wizz Food Processor is a compact option that is best for one – two people and homes with limited kitchen space. The mini food processor has 3 functions; chop, grind and whisk.
The 500ml capacity makes it easy to puree baby food, chop nuts or make pesto without any large chunks being left behind. The stainless steel blades are bi-directional to ensure the chopping is consistent, and the 3 speed options make sure you can easily select the option that best suits the dish you are making.
The mini food processor comes with a whisk attachment and it has a drip lid so you can add liquid without needing to remove the lid. The Breville Kitchen Wizz is a good food processor for anyone looking to make small batches at a time and for anyone with limited kitchen space.
---
Food Processor Buying Guide
Now you've taken a look at some of the best food processors available in Australia, let's look at the key features that should be considered when you are deciding which is the best for you. As you can see, each food processor offers different features, capacities and capabilities so finding the best food processor for you will really depend on your uses and needs. When you compare options, keep an eye out for the following:
Blades
One thing to look for is the type of blades that come included with the food processor. All options will come with the standard chopping blade (usually S-shaped), this might be one or two blades depending on the design of the food processor. The best food processor will have a blade that's sharp straight out of the box and will chop ingredients evenly for years to come. Most blades are made from stainless steel which is durable and easy to keep clean.
If you like baking you will probably want to keep an eye out for a food processor with a dough blade too. This comes in handy for cookie dough and when prepping dough for baking bread or pizza. Depending on your requirements, you may also want to consider a stand mixer.
Most of the best, high-end food processors in Australia will come with a selection of blade attachments including slicing and grating discs to offer you more versatility when cooking. Having a range of attachments is fantastic but only if you will make use of them, if you won't use them then it's not worth paying more for additional attachments.
Capacity / Bowl Size
A good size for most homes is around seven cups. For meal prep and batch cooking, a bowl size with a capacity of up to 16 cups can come in handy. A larger bowl is also desirable if you intend to use the appliance for baking. If you will only be chopping or pureeing small quantities of food, there are mini food processor options too which cost less and take up very little room in the kitchen.
Here's a rough guide for food processor bowl sizes, to give you an idea what to look for:
Mini Food Processor: 3-5 Cup
Mid-Size Food Processor: 6 – 10 Cup
Large Food Processor: 11 – 13 Cup
XL Food Processor: 14 – 20 Cup
Feed Tube
For ease of use, the best food processors have a feed tube that allows you to drop items into the processor without needing to stop it or open the lid. An extra wide feed tube can come in handy if you're likely to be working with large fruit or vegetables. It can significantly reduce the amount of pre-chopping you need to do before your food processor takes over. Keep in mind the safety risk if the tube is large enough for an adult or child to fit their hand inside.
Choppers Vs. Food Processors
A chopper is different from a food processor because it simply cuts ingredients. These models are compact and therefore take up less space in the kitchen. While the price is lower for a chopper, you won't get the benefit of a slicing disc.
A processor will usually have more power and will often come with both a slicing disc and a shredding disc. You might get a reversible shredding disc too. This lets you flip the disc over for both shredding and slicing. A good food processor is versatile and can handle most food preparation tasks.
Food Processors Vs Blenders
Food processors have razor-sharp blades and excel in tasks like chopping or mixing ingredients. This includes chopping or shredding vegetables, grating cheese or kneading bread or cookie dough.
A kitchen blender, on the other hand, has blunt blades but a powerful motor. It is designed more for liquids and is therefore suited to tasks such as smoothies and soups. There is some crossover, as they can both be used for tasks like making salad dressings or sauces.
Cleaning
Kitchen appliances like food processors can be a pain to clean. Generally, the device needs to be taken apart, piece by piece, and each item individually washed and cleaned. Keep an eye out for products that are compact and dishwasher safe if you want to avoid manual washing.
If the food processor is made from white plastic you may see some colour staining if you have used it to chop colour-rich items such as carrots or beetroots, while this will impact the aesthetic of the processor it is a normal occurrence that won't affect the taste of your dishes or performance of the food processor. This is something to keep in mind when deciding which food processor is best for your kitchen.
Size And Weight
A food processor isn't generally something you want to leave out on the kitchen bench, so you're going to want to ensure you have storage space for it. These items can be fairly bulky, especially with all their removable parts, so ensure you take this into account when shopping.
Make sure the appliance isn't going to be too heavy for you to carry around the kitchen, particularly if you have weak wrists or mobility issues. Keep in mind the weight the motor adds, especially if you're going to be storing your appliance in a high cupboard. The weight of the processor should be listed in the product information so it will be easy to find out the weight of the unit online.
It is also worth noting that heavier machines tend to be more stable, which is very important when operating at high speeds. Rubber feet can also be valuable in adding all-important grip to the base of the machine.
RELATED:
Food Processor Features
Making the best food doesn't have to take hours. Choosing a food processor will involve deciding which features are most important for you. If you're not sure, don't worry. This list will help you see what's available and decide which is the best food processor for your cooking needs:
Slice – Slicing is the bread and butter of this appliance. Depending on your particular model, you may have a range of sizes of slice to choose from. This function can be a huge time saver.
Chop – Are you sick of spending what seems like eternity chopping before you even get started on cooking? Processors make light work of this time consuming meal-prep task.
Grate – Almost all food processors will come with a grater. No more awkward box graters required.
Dice – Whether you are making a dressing or a salad, dicing is another very time-consuming task that these products make light work of.
Grind – Be it beef, chicken, or lamb, these products allow you to create restaurant-quality ground meat at home. Use the pulse function to create the perfect texture and consistency. Perfect for homemade sausages or mince meals
Zest – Get rid of that hopeless hand-held zester. Food processors make zesting a breeze. Perfect for big jobs like a citrus cake.
Mix and knead dough – This one may take some trial and error but your food processor can be a game-changer. While some appliances do come with a dough blade, many users find the regular blades are more effective.
Puree – Most processors should be able to puree. A stick blender can also be useful for this task.
Reversible blades – Is storage a concern? This handy feature can significantly reduce the number of accessories you'll need to find storage space for.
Beater and whisk attachments – Gone are the days of needing a separate electric whisk. Great for the avid baker, beater and whisk attachments make cake prep a breeze. It's like the sous chef you never had.
Other Things To Look Out For In Your Food Processor
Settings and Controls – Unlike many kitchen appliances, food processors generally don't come with a dizzying number of modes and settings. As long as you have On/Continuous and Pulse (use for short bursts), you should be able to make good use of whatever blades and attachments you have available. The speed settings should be clearly marked and easy to use, having a couple of different speed options can go a long way in helping you achieve the texture you need for the dish you are making.
Dishwasher safe – This lets you pop all the removable parts of the food processor into a dishwasher for fast cleaning.
Safety features – The features that can keep you safe include a solid base and a durable handle. You want one that will not wobble when placed on your counter and one with a handle that lets you easily remove the processor from its base.
Storage Box – Where do you plan to put all those blades and accessories? Some models come with a handy storage box so you can keep everything tidy and make sure items don't go missing.
Construction – Look at the construction of the processor, including how the feed tube fits into the top and whether you can easily attach the dough blade to the base.
User Reviews – Before you order, consider looking at the reviews of food processors by past customers. A quick online search can provide the latest review results. This is often the best way to determine how a food processor will perform over time and whether or not it is recommended by others.
Warranty – When you shop for any appliance, always check the warranty offered by the manufacturer. Some companies only cover their products with a two year warranty or less. You'll find other brands that cover their products with a three year warranty or longer, try to go with the longer warranty option. This lets you get help if the processor stops reaching a high speed or if the feed tube or other parts break.
---
Related Posts: