There's nothing quite like gathering around an outdoor fire pit on a clear starry night.
Fire pits come in a range of styles and materials, so finding the perfect option for your patio or backyard can sometimes be a challenge.
Below, you'll find an array of beautifully designed fire pits to complement all sorts of outdoor living spaces.
---
1. Collective Sol Rust Arizona Round Bowl Fire Pit
Made of heavy-duty cast iron with a distressed finish, this beautiful fire pit can add a rustic touch to your garden, backyard, or outdoor living space.
It has sturdy iron legs, an extra-thick 4mm cast iron bowl, and measures 24.5cm tall.
You'll love its highly-functional and attractive design that can be set up quickly and moved easily.
The Sol Rust Arizona Fire Pit makes an awesome addition to any small yard or large patio.
When not in use, this fire pit can double as a birdbath or water feature.
---
2. Hillenbrand & Co Outdoor Steel Wood Fire Pit
Stylish and well-made, this fire pit has been crafted in Australia and implements four carefully constructed 2.5mm thick steel plates.
Its unique look and user-friendly design make it a portable multi-purpose option for your backyard, garden, patio, or outdoor entertaining space.
If you need to take it out of the garden, no problem! This fire pit can be quickly disassembled and carried in its included canvas travel bag.
This fire pit looks great, functions well, and is one of the best options for home DIY enthusiasts, campers, and nature-lovers.
---
3. Stanley Deep Bowl Cast Iron Fire Pit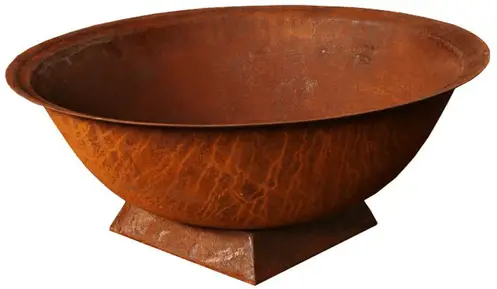 The Stanley Deep Bowl Cast Iron Fire Pit showcases a rust-coloured exterior finish and is made of 4mm thick cast iron.
Measuring 26 x 72 x 72cm, it's perfect for stationary exterior home living areas like backyards, gardens, patios, and more.
With its deep rounded fire bowl and trivet base, you can quickly start a large fire that will burn for a long time.
This fire pit has a classic style that complements most home decor themes and a low profile design that allows everyone to easily see the dancing flames.
---
4. Solo Stove Ranger Fit Pit
With a patented design and compact 31.75 x 38.1cm size, this portable wood burning fire pit is easy to move and set up.
Its double-walled construction and ventilation ports help to keep smoke at bay, meaning you can keep this wood burning fire pit fueled without smoke getting everywhere.
This fire pit includes a heavy-duty carrying case as well.
If you love outdoor accessories that showcase trendy new design ideas, this is a great option to look into.
Its versatile style makes it the perfect option to buy for any number of home outdoors or travel applications!
---
5. Pit Kings Flat Pack Fire Kit
Constructed of 3mm mild steel, this Flat Pack modern fire pit from Pit Kings is approximately 600mm long and weighs less than 10kg.
It's ideal for making summer nights more fun, camping with friends, or home backyard entertainment.
Made in Australia, this fire pit takes less than one minute to set up and comes with two end pieces, two side pieces, and a woven polyester carrying bag.
This is one of the best options for people who need a fire pit to use at home or on-the-go.
With its wide-open top, you'll easily be able to see the flames while enjoying those long summer nights.
---
6. Grillz Charcoal Rustic Fire Pit
An inspiring home exterior design piece that balances new style and old-fashioned charm, this faux stone charcoal and wood-burning fire pit is ready to take your yard to a new level.
It showcases a rustic natural look that adds charming sophistication to almost any backyard or patio space.
Plus, it's constructed of safe and durable materials. This fire pit also comes with a safety mesh dome to prevent sparks and debris from escaping and an included poker.
Overall, it measures 55 x 55 x 50cm, meaning it's just the right size for almost any patio, garden, or backyard.
---
7. Rootless Portable Collapsible Camping Firepit
Lightweight construction and a durable foldable design make this one of the best portable fire pit options around.
Since it's made of eco-friendly stainless steel and implements a heat-resistant mesh top, debris stays contained easily and portability is a non-issue.
To clean and store this fire pit, simply empty the woven stainless steel net and fold it up.
This fire pit weighs less than 2kg and even comes with an included carrying bag for storage and travel.
This fire pit is a great option to buy if you love camping, starry night skies, and user-friendly outdoor equipment.
---
8. Collective Sol Extra Large Arizona Fire Pit
The classic and elegant Collective Sol Extra-Large Arizona Fire Pit is ideal for outdoor entertaining, exterior home decor design ideas, and for anyone who loves functional decorative statement pieces.
It comes with a large 94cm cast iron bowl, stylish curved legs, and implements durable heavy-duty construction.
This is the perfect choice for almost any home outdoor space with rustic or elegant design themes.
Its deep and wide proportions let everyone easily see the flickering flames inside.
It's a durable, well-made, and long-lasting choice that will make your space look great!
---
9. TBFM Collapsible Steel Fire Pit
Turn any summer night into a memorable experience with this efficient and easy-to-use fire pit.
The TBFM Collapsible Fire Pit is versatile, portable, reliable, and loaded with modern style.
With extra-thick 5mm mild steel construction, it's stable and resistant to warping.
It also implements a foldable design that makes it easy to take on your next camping trip.
With its wide view top, everyone will love being able to see the flames dance and crackle as they gather around to toast marshmallows!
---
10. Harbour Housewares Garden/Patio Fire Pit
The modern design of this Harbour Housewares Garden/Patio Fire Pit can transform outdoor spaces in an instant.
With its beautiful brazier style look and striking open basket design, it creates a dramatic view of crackling wood and flickering flames.
Additionally, the basket bars let air flow freely to keep fires burning effortlessly.
This fire pit comes in two sizes that measure 50cm or 62cm, has four legs to keep it off of the ground, and can be carried with two convenient side handles.
---
11. Cookmaster 2-in-1 Outdoor Fire Pit Bowl
This Cookmaster fire pit and grill combination lets you cook food outdoors while also enjoying the warmth and ambience of an open fire.
It comes with an included BBQ grill gate, poker, and spark screen.
The stainless steel sides of this pit have moon and star-shaped cutouts that let you see the flames inside.
You can use this fire pit to grill steak, vegetables, chicken, and more!
We love how versatile and simple this fire pit is and its extra features are a definite bonus.
As such, it may earn the title of the best choice for backyard fun! Plus, you can buy it at a great overall price.
---
Fire Pit Buying Tips
Now that you've seen some wonderful fire pit ideas, let's take a look at some of the most frequently asked questions about fire pits in general.
That way, you'll be sure to select the best outdoor fire pit for your garden, backyard, patio, or upcoming camping trip.
What's the best type of fire pit?
There are a few things to look for when buying a fire pit. First of all, you'll want to decide whether you need a mobile fire pit or would prefer something more stationary.
If you're setting a fire pit up in your backyard, you may also want to consider its material construction and weight. Knowing what to look for will help you more easily find a fire pit that you'll love.
Best Lightweight Portable Fire Pits
The best portable fire pits will be lightweight, durable, and efficient. Many portable fire pits will come with useful accessories like pokers and carrying cases.
Stainless steel fire pits are great because they're easy to set up and last a long time.
There are also collapsible fire pits that can be used for camping and caravan trips.
Generally, you'll want to choose something that's easy to use, store, and set up.
Best Stationary Fire Pits
For stationary fire pits, you'll want to find designs that accentuate your outdoor decor style while also accommodating your personal preferences.
After all, a stationary backyard fire pit can easily become the focal point of your yard.
Cast iron fire pits often impart a rustic look to an outdoor space while steel fire pits can add a touch of modern charm.
Some fire pits also double as birdbaths.
Generally, the best stationary fire pit will be aesthetically appealing, easy to care for, and will function well.
What's the best thing to burn in a fire pit?
When you buy a new fire pit, it's a good idea to figure out what's safe to burn and what should be avoided.
Usually, it's best to burn chunks of wood or small logs. However, it's not always as simple as just finding spare wood to burn. 
Before starting a fire,  it's smart to know which types of wood will burn best.
Also, some fire pits are not designed for wood but instead require charcoal or propane.
The Best Wood to Burn in Fire Pits
It's usually best to burn natural untreated Pinion, Alder, Cedar, Oak, Hickory, Mesquite, Pecan, and fruit woods like Apple or Cherry.
Cedarwood repels insects while Hickory and Mesquite release a lovely scent. Make sure that the wood you burn is dry before you light a fire.
Wet wood is difficult to light, releases tons of smoke, and leaves behind more ash.
Wood pellets and composite wood bricks can also be used in most wood-burning fire pits.
What to Burn in a Propane Charcoal or Gas Fire Pit
When using a new gas, charcoal, or propane fire pit, it's best to carefully read the instructions before lighting the stove or filling the fuel basin.
Most gas and propane fire pits are designed to burn specific types of fuel. A propane fire pit, for example, will burn only propane.
Alternatively, a charcoal stove or fire pit may use wood or charcoal to cook food in outdoor environments.
All three options are great for summer-inspired DIY meal ideas, recreational purposes, and more.
Things to Avoid Burning in Your Fire Pit
While filling your fire bowl with most types of wood is fine, it's best to avoid burning pressure-treated wood.
Pressure-treated wood can sometimes contain binding chemicals that are not safe to burn.
Also, plastic should not be burned in a stove or fire pit. Avoid burning plastic-coated paper, bottles, or other similar items as they may release dangerous fumes.
What are the best fire pits made of?
There are a lot of materials to choose from when you're looking to buy a new fire pit. You can buy fire pits made of cast iron, stainless steel, copper, stone, and more.
The best fire pits will usually be constructed of either cast iron or steel. Both of these materials are long-lasting, fire-resistant, and easy to care for.
Keep in mind that some steel firepits can rust, and should be dried immediately if they happen to get wet.
What is the safest fire pit?
Many fire pits come with added safety features to help you safely enjoy them.
The best safety features include pokers, metal mesh guards, spark screens, and handles.
Remember, never touch the sides or metal mesh guard of a firepit until it has completely cooled down.
Even fire pits with handles should not be touched with your bare hands until they've had plenty of time to cool off.