While the design of the stationary bike has evolved greatly over the years, these machines have been the mainstay of many commercial and home gyms for decades.
Nowadays, there are a number of different types of exercise bikes that can be purchased which each bike type having its own specific benefits and uses.
This article will begin by highlighting seven of the best exercise bikes on the market in Australia.
It will then cover the different types of exercise bikes and outline a number of considerations to be made when purchasing one.
---
1. Best Spin Bike: Vortex v1000 Spin Bike
The Vortex v1000 is a carefully crafted spin bike that is perfect for indoor exercise. The high-quality frame is light yet sturdy which allows it to withstand great intensities and frequent use.
In addition to the solid construction, the high-grade drive belt provides the user with a smooth ride.
Furthermore, the bike is equipped with professional racing features, stress protection technology, simple seat and bar adjusters, and an in-built computer.
What We Like:
High-Quality Frame
Smooth Ride
Professional Racing Components
Computer Built In
What We Don't Like:
No In-Built Heart Rate Monitor
---
2. Best Folding Bike: ProFlex XB2 Exercise Bike
The ProFlex XB2 is an affordable, compact, and convenient option perfect for home use. It's easy to assemble with a sturdy frame that is suitable for riders up to 110kg.
This bike features 8 different resistance settings and a belt drive train with a magnetic flywheel train that provides a smooth and consistent workout. It's easy fold-up design means you don't need a dedicated home gym area to exercise at home.
What We Like:
Affordable
Simple, compact, easy to store when not in use
8 resistance levels
LCD display
12-month Australian Warranty
What We Don't Like:
Less resistance levels than higher-end models
Some users will feel more comfortable on a heavier bike
---
3. Best Air Fan Bike: Assault Fitness AirBike
For those who want an air bike, consider the Assault Fitness AirBike. This machine was carefully designed by fitness engineers.
These engineers consulted a range of fitness experts and took their feedback on board in order to craft the best air bike possible.
The steel frame is powder-coated and the moving parts contain sealed-cartridge bearings to ensure durability and longevity. The bike is also fitted with seven programmed workouts that you can use to get an incredible workout.
What We Like:
High-Tensile Steel Frame
Sealed-Cartridge Bearings
Durability And Longevity
Pre-Programmed Workouts
---
4. Best Upright Bike: York Fitness C410 Exercise Bike
The York Fitness C410 is one of the best choices that can be made for those on a tight budget. This upright bike is lightweight, comfortable, and sure to provide a challenging workout.
The machine provides 32 levels of magnetic resistance to cater for a range of needs and demands. Furthermore, the machine has hand pulse monitors built in to allow you to track heart rate while exercising.
What We Like:
Good Price
Comfortable
32 Levels Of Resistance
Heart Rate Monitor Grips 
---
5. Best Recumbent Bike: Lifespan Fitness RC-300 Bike
Recumbent bikes can be a great tool for those who have movement restrictions or chronic pain. The Lifespan Fitness RC-300 is an excellent recumbent exercise bike that promotes comfort and safety while still allowing for challenging workouts.
The control panel is very user-friendly and allows the user to adjust the resistance levels or select workouts quickly and easily.
In addition, the machine has a range of features including a tablet shelf, USB port, and a speaker system to maximize comfort and enjoyment.
What We Like:
Back-Supported Seat
Easily Adjustable Seat and Handles
User-Friendly Controls
Tablet Shelf, USB Port, and Speakers
---
6. Concept2 BikeErg Exercise Bike
The Concept2 Bike Erg is an upright exercise bike that closely replicates the feel of riding a bicycle on the road.
The bike is equipped with a clutch that causes the flywheel to continue to spin when not pedalling. Air resistance is applied to the flywheel which leads to a very responsive, smooth, and quiet ride.
The bike is also equipped with a performance monitor that provides you within-session data.
What We Like:
Replicates Road Cycling
Equipped With A Clutch
Smooth and Responsive Ride
Performance Monitor
---
7. Schwinn Airdyne AD8 Air Bike
The innovative design of the Schwinn Airdyne AD8 makes it one of the best exercise bikes on the market.
Not only is it constructed with top-grade materials, but it is also space-efficient which makes it a great addition to any home gym. It is a very comfortable machine and extremely simple to operate.
The bike is built with an LCD screen that provides nine programs and data on heart rate, calories, wattage, distance, and speed.
What We Like:
Space-Efficient
Ease of Use
User-Friendly LCD Screen
160kg Weight Capacity
---
8. Lifespan EXER58 Exercise Bike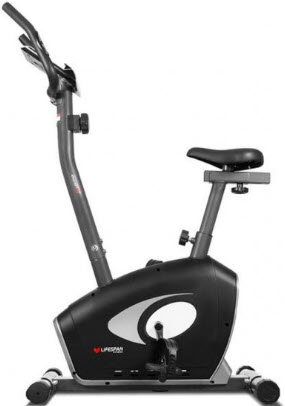 The Lifespan EXER58 is a superb cost-effective exercise bike. The bike has eight magnetic resistance levels that can be adjusted by a dial to allow you to manipulate training intensities.
The bike is constructed with a heavy-duty drive chain and flywheel which not only ensures a smooth ride, but also promotes durability.
The seat found on the bike is extremely comfortable allowing you to exercise for a long duration without issue.
What We Like:
Cost-Effective
Heavy-Duty Drive Chain and Flywheel
Comfortable and Smooth RidePro 3
Comfortable and Smooth Ride
---
Exercise Bike Buyer's Guide
This section will highlight four different types of exercise bikes and their unique features, before discussing things to look out for when making your selection.
Types of Exercise Bikes:
Stationary bikes come in a variety of shapes and sizes. However, most will fall into one of four types: air, spin, upright, and recumbent bikes. This section will highlight the main differences between each type of bike.
Air Bikes
The air bike is a more recent variation of an indoor exercise bike. At the front of the machine, you will find a large fan. In addition to the pedals, the air bike has push/pull handles that allow you to utilize the upper body to help power the fan. This bike works solely on wind resistance, therefore, the harder you work the more resistance is applied.
Spin Bikes
Spinning bikes are most like road racing bicycles. These bikes are constructed with a weighted flywheel that revolves when peddling. The handlebars are more horizontal to allow the user to lean forward, as you would on a road bike. Spin bikes use magnetic resistance in order to increase or reduce the intensity of the cycle.
Upright Bikes
The classic indoor exercise bike that you will come across in most gyms is the upright bike. As the name suggests, the seat places the body in a more upright position with the pedals aligned directly beneath the feet and the handlebars in the conventional position. This machine replicates riding an actual bicycle most closely.
RELATED:
Recumbent Bikes
The difference between the upright and recumbent bike is the body position. The seat of a recumbent bike is recline which provides the user with a great amount of support and allows them to lean back comfortably into the seat. The pedals are found to the front of the machine and, therefore, with the recumbent bike the legs extend out in front of the body.
Choosing the Best Exercise Bike for Your Needs
When it comes to choosing the best bike for you, there are a number of considerations that you should make.
You must first consider your training goals and recognize any potential limitations that you have. The type of bike that you select should align with both your training goals and limitations.
When it comes to training goals, most individuals tend to use cardio equipment either to improve their aerobic abilities or to lose weight. The two most common methods of cardio training for achieving these goals are known as Low-Intensity Steady State (LISS) and High-Intensity Interval Training (HIIT).
As the names suggest, LISS involves maintaining light exercise for a prolonged time period whereas HIIT involves performing intervals of high-intensity work for a short time. The mode of training that you will primarily use to achieve your goals will dictate the type of exercise bike you choose. For example, a recumbent exercise bike tends to be better for LISS whereas an air bike tends to be more effective for HIIT.
It is also worthwhile considering any limitations that you currently have in terms of your movement and physical condition. For those who have back issues, all upright bikes may not be the best choice as they have no back support and may exacerbate issues.
Recumbent bikes, however, make the perfect choice as they support the trunk of the body while allowing you to cycle safely. In addition, some bike has been designed to replicate road racing and, therefore, have quite a firm racing seat and allow for a great forward lean. Once again, this may not be appropriate for individuals with postural issues or chronic pain.
Personal preference, practicality, and price must be also considered. Some exercise bikes contain more advanced features such as heart rate grips, speakers, USB ports, and tailored training data. If these are features that you want, ensure that the bike that you purchase contains these.
Furthermore, some bikes have large dimensions and will take up a lot of space. If you find that you are short on space, purchasing a large machine is not recommended. Finally, finding a machine that fits your budget is important. While more expensive machines are undoubtedly great quality, they may be unaffordable. However, there is a range of excellent exercise bikes that are also very cost-effective.
Tips for Using an Exercise Bike at Home
In this final section, we will provide a number of helpful tips for using an exercise bike at home.
Set Up The Machine Correctly
Before even getting onto the bike and starting indoor exercise, it is important that the seat and handlebars are adjusted to match your body's proportions. Failing to so will not only impact your performance but it may also increase the risk of experiencing an injury. Adjust the seat so that when you cycle, the leg extends just short of full extension with a slight bend in the knee. The positioning of the handlebars depends on your personal preference. The ideal placement will allow you to ride comfortably without having to put a great amount of weight into the handlebars.
Remember To Warm-Up
Warming up properly is vitally important before any indoor cycling exercise sessions. Warming up will promote blood circulation to the working muscles and reduce the risk of sustaining an injury. Furthermore, if you want a quick and simple way to improve your performance before even getting on the bike, perform a warm-up. Studies have demonstrated the effectiveness of a warm-up on athletic performance.
RELATED:
Cycle With Good Technique
It is not uncommon to see regular cyclists with shoulder postural dysfunction. This tends to occur due to constantly leaning over the bike while letting the shoulders slump forward and resting the arms on the handlebars.
While this can be effective for aerodynamic reasons and power production, it is not a position that should be maintained for a prolonged time period. Instead, focus on keeping the chest lifted, core engaged, and a light grip on the bars.
Using An Exercise Bike To Improve Aerobic Fitness
There are a number of ways of improving your aerobic fitness through regular indoor cycling sessions. As highlighted, LISS and HIIT are two of the most common methods for improving cardio health. Regardless of the type of cardio session, it is critical that progressive overload is applied to your training.This is simply the process of increasing the intensity of the workouts over time.
Gradually adding duration, resistance, or speed with each session will cause an increase in intensity and consequently force the body to adapt.
Many of the best exercise bikes have a range of workout programs built-in. Utilizing these workouts is recommended as many of them will also lead to improvements in aerobic fitness.
Additionally, most exercise bikes have some form of heart rate monitoring. Tracking your heart rate during training can be beneficial for something known as "heart-rate training". This involves keeping your pulse rate within a certain parameter for a prolonged time period and is a useful way to track intensity and improve aerobic capabilities.
Using An Exercise Bike To Lose Weight
When it comes to weight loss, creating a calorie deficit is of utmost importance. This is simply where you burn more calories per day than you consume. Therefore, the primary purpose of exercise during weight loss is to burn calories and contribute to this deficit. As highlighted earlier, there are two main exercise methods – HIIT and LISS – both of which have calorie-burning benefits. HIIT allows you to burn calories through high intensities and short durations whereas LISS burns calories through lower intensities and high duration. Both methods are highly recommended for bringing about weight loss.