Electric woks and fry pans can be used to cook a wide range of delicious dishes quickly and conveniently.
With energy-efficient electric thermal components, these devices allow you to whip up great home-cooked meals without having to worry about heating up your stovetop or lighting a burner.
Electric woks and frying pans are great for frying, braising, stir-frying, deep-frying, stewing, searing and much more.
In this guide, we will take a look at some of the best electric skillets, woks, and fry pans, so that you can find the perfect solution for your kitchen.
---
1. Best Electric Frying Pan: Sunbeam SK4200P Classic Electric Skillet
First, let's take a look at an electric fry pan that has been receiving glowing consumer reviews across the board.
The Sunbeam SK4200 Skillet is ideal for everyday use, has a compact and space-saving design, and includes a useful domed lid for steaming. It's well-made, with quality heating elements that are cast into the cooking plate.
This means that you will get reliable and even heat distribution with every use.
This skillet is dishwasher safe, durable, the right size for most kitchen countertops, and makes crafting an extensive range of meals easy.
The only downside with this electric frying pan is that if its surface isn't cared for properly, the non-stick coating may start to wear off.
Be sure to avoid using metal utensils on the coated surface and allow it to cool down fully before washing.
What We Like:
Fast and even heat distribution
Includes steaming lid
Durable dishwasher-safe design
Great consumer reviews
What We Don't Like:
Non-stick coating is delicate
---
2. Best Electric Wok: Sunbeam WW7500D Professional Wok
This is one of the largest and most capable electric woks currently on the market. The Sunbeam WW7500D offers you a 7.5-litre cooking capacity and a large heated surface.
It provides consistent and even 2400 watt electric heat for more evenly cooked dishes with 15 distinct temperature settings.
With a DuPont Teflon Platinum Scratchguard coating, it's safe to use with metal utensils.
It also includes a glass lid with an adjustable steam vent that makes it ideal for making traditional oriental dishes.
The wok plate dishwasher safe as well. With that being said, this option is a bit more expensive than some of its competitors.
Still, if you need a wok of decent size and durability with a large capacity, it's a good overall value.  
What We Like:
Large capacity with even heat distribution
Includes a wooden spoon and steaming rack
Dishwasher-safe
15 temperature settings and trigger-release probe
---
3. Breville BEF250GRY Banquet Electric Frypan
This deep and durable professional electric frypan from Breville is another great option for those who need to cook large meals.
With a non-stick surface, powerful 2200 watt temperature settings, diecast construction, and pan-tilt features, you can cook an extensive range of meals quickly and easily.
This device lets you choose from separate fry pan electric settings that have been optimized for warming, sauteing, pan-frying, and searing.
It has a premium coated surface which has been upgraded from previous models to prevent sticking and burning, even after many uses.
With a deep basin design, you can effortlessly make casseroles and other dishes that would spill from shallower pans.
The only thing we don't like is its high price tag.
What We Like:
Deep basin design
Improved non-stick coated surface
Diecast construction
Powerful heating elements
---
4. Kambrook KEW5 Essentials Wok
While this is a small wok, it makes up for its size with power, efficiency, and impressive design features.
This compact little wok is perfect for stir-frying, pan-searing, braising, and cooking delicious Asian-inspired meals in minutes. It offers powerful 2200 watt electric heating that cooks food evenly and quickly.
The diecast high-walled design makes it easy to use and it has a glass lid that fits securely for steaming and moisture retention in meats, noodles, rice, and vegetables. It also comes at a great price.
If you want to efficiently cook with a compact and powerful wok that comes at a great value, this might just be the best option for your countertop.
What We Like:
Compact and powerful
Easy and fast wok cooking
---
5. Sunbeam FP6000 DuraCeramic Frypan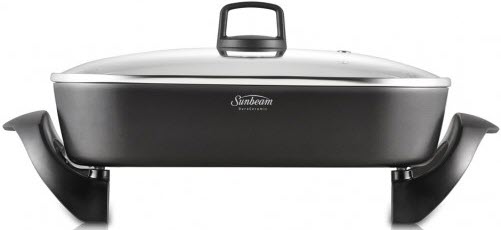 Another great electric cooker from Sunbeam, the FP6000 DuraCeramic Frypan comes with a non-stick interior ceramic finish that makes it a safe and reliable option. It's not hard to clean and maintain and is PTFE and PFOA free.
It also has a large capacity and a wide-open design for fast, easy, and versatile meals. The FP6000 is also less expensive than many other similar electric fry pans.
It's important to note that this isn't the best electric frying pan for braising or searing. With its ceramic interior, getting a good sear or simmer may be difficult.
Still, this durable and reliable device has a range of functions and comes at a great overall value.
What We Like:
Easy to clean
Durable non-stick ceramic interior
Even temperature
What We Don't Like:
Slow to reach high heat settings
---
6. Breville BEW300 HealthSmart Wok
Last but not least is the Breville BEW300 HealthSmart Wok. This 2200 watt electrically heated butterfly wok comes loaded with useful features.
It has a unique "cook 'n' look lid" with an adjustable steam vent to simplify and streamline your time in the kitchen.
It also has useful handles and 10 different temperature control settings.
With a trigger release button and removable temperature probe, it's easy for even a novel home chef to use.
It's ideal for anyone who wants to make healthier home-cooked meals or oriental food in record time.
While this pan is a bit pricier than some of its competitors, its wide range of user-friendly features and smart design make it one of the best options for those who want a fast, easy, and efficient electric wok.
What We Like:
Fast and even heat distribution
Includes glass steaming lid
Dishwasher safe design
Easy to use
---
Electric Woks and Frypan Buyer's Guide
With so many impressive electric frying pans and woks out there, it's not always easy to narrow down which one is ideal for your needs.
Knowing what to look for can help. Here's a guide that you can use to figure out which electric frypans and woks will be a great fit for you.
People use electric skillets, woks, and frying pans for a variety of reasons. Knowing what you plan to do with your electric frying pan can help you determine which devices are the best electric skillets to consider.
What to Look for in an Electric Wok
Cooking with a wok is easier when your device can quickly reach the high temperatures needed to crisp and fry food items. So, opt for a wok with good electric heating components.
This will make it easy to sear, toss, and flip food around the pan to get that desired golden and crispy exterior. Choosing a wok with a slick interior for stirring and tossing food easily is also wise.
Devices like the Breville HealthSmart Wok are ideal for creating fast and healthy meals.
They reach cooking temperatures quickly, implement energy-efficient heating elements, and are perfect for whipping up healthy Asian-inspired food in record times.
If you want to make wok-style meals for the whole family, you will want a large and powerful wok like the Sunbeam WW7500D.
Important Electric Wok Features:
High-Walled Bowl
A tall bowl will help to ensure that stir-fry ingredients can be tossed and stirred properly.
Fast and Powerful Heating Elements
Powerful heating elements make wok cooking easier. You'll be able to make traditional Asian recipes and quickly brown ingredients evenly.
Pan Coating to Prevent Sticking
High cooking temperatures mean that sticking and burning are more likely. Teflon and stick-prevention coatings help immensely.
User-friendly features
User-friendly features make learning to use a wok or creating healthy meals easier.
Cooking With Electric Woks
Electric woks work well for all kinds of recipes.  Since they're portable and run off of electricity, these devices are extremely versatile. Most woks measure 12-14 inches in diameter, providing plenty of cooking space.
To protect your wok's non-stick coating, it's wise to implement wooden utensils for stirring and mixing in food ingredients. Since these devices quickly can reach high temperatures, you will have to choose cooking oils that don't burn easily.
The best wok oils to cook with include:
Pork fat
Grapeseed Oil
Shortening
Peanut oil
Sunflower oil
Coconut oil
Canola oil
RELATED: The Best Cookware Set
What to Look for in an Electric Pan
If you want to pan-fry veges or meat, make casseroles, or create large family-sized food portions that take a while to cook, you will want to look for an electric frying pan with a wide-faced design, consistent temperature, and a large capacity basin.
Ceramic coated cookers like the Sunbeam DuraCeramic device can be an amazing choice for roasts, casseroles, stovetop meals, and more.
If you plan to slow cook or deep fry different food items with your electric pan, you will need to choose one with a secure lid and a deep basin.
Slow cooking tends to require lower temperature settings, so be sure that your device can be set on high, medium, or low. You'll also want reliable and even electric power components.
Look for electric pans with at least 2000 watts of power and heating components that have been built into the cooking surface. The Breville Banquet Frypan is one of this type of diecast construction.
Important Electric Pan Features:
Durability and Design
If you'll be using your pan often, the durable high-quality design will provide you with better value for money.
Even heating
Consistent and even heat ensure that food is cooked consistently.
Dishwasher safe
Pans with removable dishwasher safe components are much easier to clean, saving you time and energy.
Size and capacity
Be sure to choose a pan that's the right size for your cooking plans.
Cooking With Electric Frypans
Cooking with an electric frying pan or skillet is very similar to cooking their non-electric counterparts. However, there are some key differences to consider and a few added advantages as well.
Since these devices implement electric heat, they can be extremely energy-efficient. Plus, they're portable, so they can be used in a wide range of scenarios where standard non-electric frying pans may fall short.
Some electric frypans even double as food warmers, like the Breville Banquet Frypan.
Remember to always let your electric frying pan cool down completely before washing or cleaning it. Read your user manual before you begin cooking as well.