A dish rack is a great piece of practical kit for the kitchen, enabling you to dry your cutlery, crockery and other cooking items efficiently. If you're looking for some help purchasing the best dish drying rack for your needs, we're here to help.
Take a look at our top 5 dish racks currently available on the market in Australia:
---
If you're looking for an attractive dish rack, the Polder 4 will look great in any modern kitchen, with its brushed stainless steel and rounded corners. In addition to elegant design, several parts, such as the plastic drying tray and utensil bin are removable so that you can adapt the unit to suit your needs.
Customers will love that the product can hold 10 plates altogether, in addition to utensils and other pots, making it a great size for family meal cleanups.
---
The Joseph Joseph Extend dish rack is an innovative kitchen product designed to help you set up dish draining and drying in the way that works best for you. On a removable steel rack, with plated steel prongs with non-scratch tips and grippy feet, you can dry any glass or crockery type safely and efficiently. The integrated drainage swivel spout also guarantees you won't end up with a pool of water to deal with.
Looking for optimum dish drainer versatility? This rack almost doubles in size so you can extend it for use after meals using more pots and pans.
---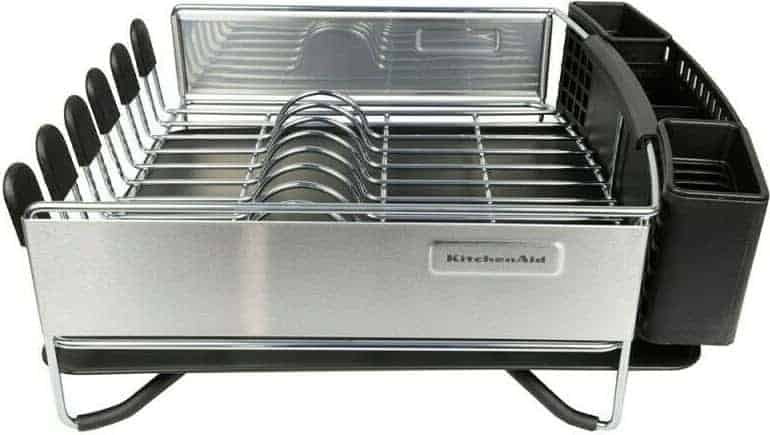 The KitchenAid dish rack is perfect if you want a robust product designed to last through plenty of use, day in day out. Compact in size, it will fit in most kitchens and has the capacity to hold full-size plates. The utensil holder is also removable so you have flexibility when it comes to how you use your new dish drying rack. You can also remove the draining tray for easy cleaning.
Do you appreciate high-quality materials in your kitchen accessories? The KitchenAid uses heavy-duty wires and stainless steel walls for a premium look and feel. It also has soft, grippy feet to ensure your worktops remain safe from damage during use.
---
The Joseph Joseph dish drainer is designed to make dish drying as flexible and convenient as possible using 3 well designed components that can be arranged in multiple ways. Two plastic dish racks and a plastic cutlery holder can all be moved around to provide the perfect dish drying solution whether you're drying one wine glass, or a whole set of dishes. In combination with an effective drainage spout, your pots and pans will be dry in no time.
Customers will love how easy to clean the product is, and how its compact and lightweight design makes it ideal for small apartments and even as a piece of camping equipment.
---
If you are looking for the ultimate space-efficient dish rack then look no further than the Scullery Pura dish drainer. Made with a cute, modern design complete with stack nodules and built-in draining board, it will fit in with any kitchen style. Whether your kitchen is huge, or tiny, you can guarantee that this compact dish drying rack won't be taking up any extra space on your kitchen counter.
Unlike a traditional dish rack, the Silicone and stainless steel Scullery rack is collapsible which means you can easily store it away between uses. Even better, it can be reduced down in size to just 6.5 cm just by pressing on the frame, so it's not only ideal for small kitchens, but efficient camping setups too.
---
Dish Rack Buyers Guide
If you're unsure what to look for when it comes to dish racks, you're not alone. There are so many different features, materials and types it can be difficult to know which is the best dish rack for you. Ultimately you want to easily dry your dishes, but there are a few factors to consider to help you get the right product for your needs.
Here are our top, handy buyers guide tips to ensure you get the best rack for your kitchen:
How Big Is Your Kitchen?
The size of your kitchen, or particularly your draining board will have a huge impact on the kind of draining board you should choose. If you are restricted for kitchen counter space you may wish to choose a compact option, or alternatively, a type that is extendable could be a good choice.
RELATED:
Is It To Keep Out, Or Store?
If the product is to keep out you might be more concerned with how it looks, compared to a rack you keep in the cupboard. If you keep up with kitchen trends you may want to ensure any new accessory or tool in your kitchen fits in with the overall design.
A steel frame dish rack or brushed steel rack might look more aesthetically pleasing than a silicone or plastic dish tray although it depends on your preferred style.
Look For Effective Drainage
If there is one thing you expect the best dish rack to do it is drain the water away. Look for an effective drip tray design along with a draining tap for signs of great drainage and water into the sink and not getting stagnant around your dishes.
Will It Stack Your Pots?
Some dish racks have low nodules which means they may not store taller plates and crockery. This may not be an issue if you only use one or two plates and can place them on their side. However, if you expect to stack several tall plates vertically you will want to keep an eye out for taller nodules or organisers that can effectively hold your plates up.
By utilising our tips above, you'll have the best chance of getting the best dish rack to suit your drying space. Soon enough you'll have the perfect rack to get your dishes dry and put away quickly, leaving you more time to relax and spend time with the family.
RELATED:
---
Dish Rack FAQs
Do stainless steel dish racks rust?
A stainless steel dish rack can rust but this can be avoided by drying it thoroughly after use. If it does rust, there are several cleaning methods that can get it clean again if caught in time.
How do you keep a dish rack clean?
You can clean a dish rack using warm soapy water. Ideally, if it is compact enough, by run it through a cycle in the dishwasher.
---
Related Posts: