Your kitchen cutlery can have a big impact on how you enjoy your meals. On top of that, your cutlery can make or break the look of your table place settings.
These days, an array of gorgeous cutlery sets are available in Australia. So which ones are best?
The ideal cutlery set will beautifully balance style, utility, comfort, and durability. Below, we've created an in-depth list of some of the most impressive and well-designed cutlery sets out there. Take a look for some dining decor inspiration!
---
1. Carl Schmidt Sohn 30 Piece Stern Cutlery Set
Made of stunning textured stainless steel, this cutlery set contains 30 attractive pieces. It has been carefully shaped by Japanese blacksmith optics, making it one of the most stylish and expertly crafted utensil sets available.
This chic set is from the Carl Schmidt Sohn collection and includes 6 dinner knives, forks, soup spoons, coffee spoons, and cake forks.
With a silver-coloured polished mirror finish and distinctive hammered details, these utensils would be a great addition to essentially any home dinner table!
---
2. Maxwell & Williams Westbury Stainless Steel 16 Piece Cutlery Set
Check out this lovely 16-Piece Stainless Steel Cutlery Set! From the Maxwell & Williams Westbury collection, each fork and kind in this cutlery set is made from high quality 18/10 stainless steel.
It comes loaded with long-lasting and sophisticated style, making it fancy enough for special occasions but hardy enough for everyday use.
Elegant yet simple, this set will instantly enhance any table setting. Featuring a French provincial design with classy recessed borders, there are enough pieces in this set to serve 4 people at a time.
All in all, this is one of the best stainless steel cutlery sets for those who want tableware with elegance, chic style, and functional versatility.
---
3. Royal Doulton Elegance 56 Piece Cutlery Set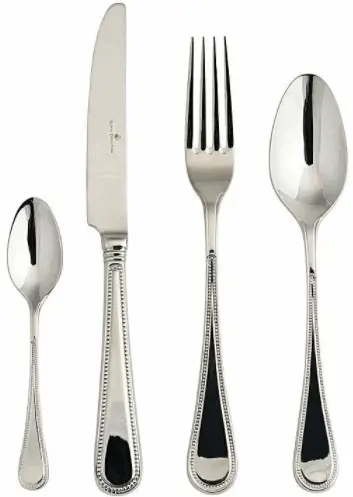 This high-quality Royal Doulton set contains 56 premium pieces of elegant cutlery. It showcases a timeless design that can easily create a high-end feeling at the dinner table.
Carefully arranged in a flock-lined gift box, this 56 piece set comes with 8 place settings.
Each place setting will include a dinner knife, entree knife, dinner fork, entree fork, teaspoon, soup spoon, and dessert spoon.
Crafted from premium 18/10 stainless steel, this set will last for years to come. It's also easy to care for and completely dishwasher safe!
All in all, if you've been looking for an efficient and elegant way to stock up on premium cutlery, this Royal Doulton set is a fantastic option to consider.
---
4. Stanley Rogers Oxford 50 Piece Cutlery Set with Steak Knives
Showcasing an attractive mirror finish and flattened square shapes that will enhance the look of any table setting, this 50 piece cutlery set can be used to accommodate 10 guests at once.
This cutlery set is ideal for dinner parties or will work for everyday applications.
With subtly engraved grooves in the handles, this set creates a classy feel and provides you with a comfortable grip.
Beautifully presented in a chic Stanley Rogers gift box, you'll receive 10 knives, dinner forks, teaspoons, dessert spoons, and dinner knives.
---
The Toujours cutlery set Laguiole by Louis Thiers implements tradition, quality, and superior craftsmanship in every knife, fork, and spoon.
Each of these pieces is decorated with the Laguiole bee insignia to add a feeling of designer style.
With hand-finished details, this premium cutlery set allows you to see and experience a true difference in quality and feel.
This 24 piece cutlery set includes 6 dinner knives, forks, dessert spoons, and teaspoons. It has been crafted of high-quality mirror polished heavy gauge (2.5 mm) stainless steel for superior durability and stain resistance.
The moulded acrylic handles display three circular set steel rivets and are comfortable to grip and use.
This set is also dishwasher safe and comes in a gorgeous timber box.
---
6. Stanley Rogers Baguette 56-Piece Cutlery Set
Are you ready to bring a timeless feeling of elegance to your dinner table? If so, the Stanley Rogers Baguette 56 piece cutlery set may be ideal for you.
This cutlery set is constructed from premium 18/10 stainless steel which offers superior brightness, lustre and durability.
It showcases simple teardrop handles with delicately raised centres that create a sophisticated overall feel.
This Stanley Rogers 56 piece stainless steel cutlery includes 8 black and silver table knives, 8 silver table forks, dessert knives, dessert forks, dessert spoons, and teaspoons.
It's also dishwasher safe and has a silver polished mirror finish. Then, all 56 pieces come in an attractive gift box.
---
7. Qianmian 20 Piece Silverware Flatware Cutlery Set
Simple and clean with a minimalistic look, this stainless steel cutlery set showcases beautiful pearled-edge handles that can be used for every meal.
Also, this utensil set implements premium 410 stainless steel for long-lasting durability.
It can be used at every meal and is dishwasher safe. So, if you like stainless steel cutlery sets that are chic, subtle, and versatile, this is a great option to consider.
You can use this 20-piece stainless steel flatware set to service for 4 people at a time.
It contains 4 dinner forks, tablespoons, dinner knives, salad forks, and teaspoons. Lastly, the entire modern and stylish cutlery set comes in an attractive gift box.
---
8. Noritake Rochefort 24-Piece Stainless Steel Cutlery Set
Noritake's classy Rochefort 24-piece stainless steel cutlery set can give a stunning and contemporary look to any table!
This set has been carefully manufactured from the highest quality 18/10 stainless steel.
Since 18/10 stainless steel is one of the most durable and rust-resistant materials around, this is one of the best stainless steel cutlery sets that you can buy.
Each fork, knife, and spoon in this premium set showcases beautiful mirrored surfaces with delicate curved shapes on the front and back.
This set offers an ideal combination of weight and balance.
Elegant and modern, this silver set of well-made utensils can add a feeling of sophistication and modern style to every meal!
---
Tips for Buying a Cutlery Set
If you've been looking for the perfect cutlery set, there are a few things you'll want to know.
Cutlery sets come available in a range of styles, materials, and piece quantities.
Below, we will go over a few tips so that your quest for the perfect cutlery set will go a bit smoother.
Think about how you will be using your cutlery set
It's a smart idea to know exactly what purposes you want your cutlery to serve. Think about the factors that matter to you most in cutlery as you shop. Will you be using your cutlery set for everyday meals, special occasions, or guests? How many pieces will you need? What materials do you prefer? 
For Guests
If you're planning on throwing a dinner party or simply inviting friends over for a meal, a high-end cutlery set may be a good option. That way, you can impart elegance into your table settings.
Alternatively, if you need to accommodate many guests at once, you'll want to select a large set with plenty of matching pieces. This will allow you to create a composed and well throughout feeling at the table.
For Daily Use
If you've been looking for quality cutlery that can be used for everyday meals, there are plenty of great options to choose from. It's smart to look for durable and long-lasting materials like stainless steel.
This will ensure that your cutlery will be able to stand up to the wear and tear of daily use.
For Different Culinary Applications
For those who frequently enjoy tea, coffee, or fancy desserts, it's a good idea to get a set of cutlery with teaspoons or dessert spoons included.
Alternatively, if you find yourself preparing cuts of meat often, you might want to purchase a set that comes with quality cutting knives.
However, when it comes to knives, it may be smart to select a separate knife set as well.
Decide how many pieces you would like your cutlery set to contain
Quantity matters when it comes to cutlery sets. After all, you don't want to have to mix and match from different sets because you've run out of uniform pieces!
To decide how many pieces you'll need in a set, figure out if you need something for daily use, dinner parties, or to simply fill up those empty kitchen drawers. Then, decide how many people you'll most likely be serving.
If you need to fill up a bare kitchen drawer, a large 56 piece set might be your best bet.
An accommodating 56pc cutlery set will contain 8ct quantities of 6 different utensil styles.
This will usually be enough to cover the tableware needs of a family of five.
So, if some forks and spoons are in the dishwasher, there will still be tableware for everyone to use.
For those who live a quieter single life, any 20 piece set should work well. As a guide, have at least 3 pieces (forks, knives, spoons) available for each member in your home. 
Check that cutlery set colours will match your existing kitchenware and cookware sets
When shopping for cutlery, you'll need to take your home themes into consideration.
To get an idea of what colours and designs to go with, it's best to look at the dinnerware, cookware sets, and kitchen appliances you already own.
For instance, if you have stainless steel or silver kitchen cookware, it's best to purchase all of your accessories in matching colours for a composed and finished look.
Stainless steel cutlery sets will also match brushed-steel cookware, pots, and pans.
In fact, for most utensil sets, stainless steel is a fantastic choice. The sparkling silver colour of stainless steel is timeless and imparts a feeling of elegance to the home.
Also, there's a reason that many people call cutlery "silverware". While there are many other utensil colours available, the traditional utensil colour is definitely silver.
Plus, silver stainless steel utensils are long-lasting and durable. On the whole, silver is a colour that will match a range of cookware and dinner sets so that everything ties together nicely.
Know your knives
With some cutlery sets, steak knives are included. Although, it might be wise to purchase a separate knife set as well.
Knives that are sold separately may even come with knife sharpeners and chopping boards so that you can keep each and every knife ready to cut meat with ease.
Remember, not every knife has been created equally. A range of different knives, knife sets, and knife styles are available.
For instance, a table knife will usually not be the best choice for cutting steak.
Unlike steak knives, knife and fork table sets are generally used for eating softer foods. On the other hand, steak knives are specifically designed to shred tough meats.
Furthermore, as you set your table, you won't always need to include a steak knife in your utensil arrangement.
If you aren't serving large or tough cuts of meat, you should be able to simply add a regular smooth dinner knife and fork to each place setting.
Plan your budget before you buy
What price are you willing to pay for your cutlery set? Cutlery can be affordable, pricey, or downright expensive.
However, if you really want high-end quality and premium designs, you'll need to be prepared to pay a higher price.
With that in mind, plenty of quality tableware sets come at low price points as well.
If you're just moving into a new home or overhauling your kitchen, you're likely going to need a range of cookware pieces.
Some cookware sets include cutlery, however, it's better to purchase things separately if you want a customized and accommodating ensemble of kitchen cookware and tableware.
Make sure to check for matched sets or collections from the same maker.
That way, if you find a designer that you love, you can buy everything from the same place. Many tableware makers also offer dishes, pots, saute pans, wine glasses, knife sets, and other matching kitchen accessories.
If you know what your favourite brands are, you can ensure that as you fill your kitchen, everything will match beautifully.