A clothesline is something we use frequently but don't give much thought to until we need to upgrade. If you haven't looked for a new clothesline in a while you may be surprised by the number of options available and how convenient they are.
The best clotheslines are simple to use, unobtrusive and provide plenty of hanging space.
Clotheslines come in a range of types, sizes and designs, so it's worth understanding what to look for before making a selection.
The reviews and buying guide below will help you narrow down the options and find the best one for your needs.
Here are our picks for the best clotheslines in Australia:
---
1. Hills Heritage 6 Rotary Hoist Clothesline (Top Pick)
This Hills Hoist is a fixed clothesline perfect for those with large laundry loads to dry. It is a spacious rotary that is even large enough for drying king size sheets.
The frame is made from galvanised steel and aluminium and is fixed into a concrete pad. The clothes wire is also made from galvanised steel so you can trust that it is sturdy, can withstand outdoor elements and will last a long time.
There is an aluminium winding gear for easily opening and closing the line as needed.
This is great as you can fold the structure down into a much smaller unit when it's not being used.
This model gives you 40m of hanging area and it comes with a 10 year warranty against defects.
What We Like:
Spacious
Sturdy
Easy to open and close
---
2. Brabantia Wall Fix and Storage Box Clothesline
If you have a limited amount of available area, this compact, fold-away clothesline is both space-saving and efficient. This clothesline offers 24m of clothes hanging space, making it best suited for homes of up to 4 people.
The unit is fixed to the wall meaning it is always ready to be used. It can be opened up with a single one-handed movement for convenience and ease of use.
This clothes dryer is easy to install and the set comes with a drilling template and wall fixings so you have everything you need in the pack.
This Wall Fix and Storage Box line is made from corrosion-resistant materials making them sturdy and weather resistant.
The protective storage box looks smart and stores the washing line out of the way when it is not in use, keeping it clean, dry and in good condition.
What We Like:
Looks smart
User-friendly one handed operation
Best for small spaces
---
3. Hills Everyday Retracting Clothesline
This retractable clothesline from Hills is a sleek option that provides up to 39m of drying space.
Each of the 6 lines can extend up to 6.5m and, when extended, this clothesline can accommodate all sheet sizes including king size.
This unit has a galvanised and powder-coated steel cabinet that can be installed onto a wall. The unit is strong, sturdy and stores the retracting lines away neatly.
The lines are made from UV stabilised polycore so you can rely on this unit the dry your clothes for years to come.
What We Like:
Sleek cabinet
Spacious
Durable
---
4. Austral Super 4 Rotary Clothesline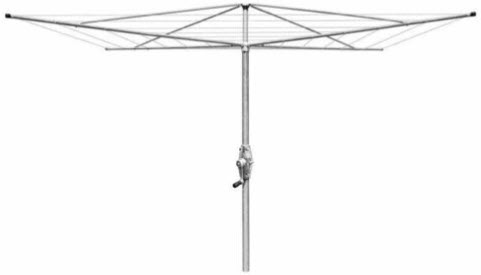 This rotary clothesline is strong, durable and spacious. This fixed line has a 4m diameter and is best suited to households of around 5 people.
For stability and strength, this rotary has galvabond tubing and arms and the wire is also galvanised. There are 6 lines on this rotary offering a total drying area of 40m.
There is an easy to use plastic handle for putting the rotary up or down and there are plastic end caps ensuring there are no sharp or dangerous edges.
This is a great option for a large home with an outdoor area.
What We Like:
Fixed rotary
Easy to use
Long-lasting
---
5. Hills Premium Single Compact Folding Frame Clothesline
This compact frame is ideal for use in apartments, townhouses and on balconies. It can be folded flat when not in use or can be mounted on the house or fence.
This space-saving design is best for urban living situations where there is limited space and you don't want a line up all of the time. It takes just a few minutes to install and is very easy to use.
The galvanised coated finish ensures this clothesline is durable and will last a long time. The unit is designed to be ergonomic and it is lightweight too.
Overall this frame provides 13m of line area making it great for singles or couples.
What We Like:
Best for smaller areas
Can be mounted
Easy installation
---
6. Hills Frazer Single Folding Clothesline
The Hills Frazer Clothesline is a versatile option that is perfect 4-5 people. This model offers simplicity, space and strength, making it a very popular clothesline for families.
The all-steel construction makes this a product you can rely on for years to come. The total drying area is 33m and when not in use the clothesline can be folded down. If preferred, the unit can be ground mounted instead of wall mounted too.
This clothesline offers 14 lines that are well spaced for quicker drying. This option is easy to assemble and install.
What We Like:
All-steel
14 lines
Ground or wall mounting options
---
7. Hills Cordomatic Retractable 15m Clothes Line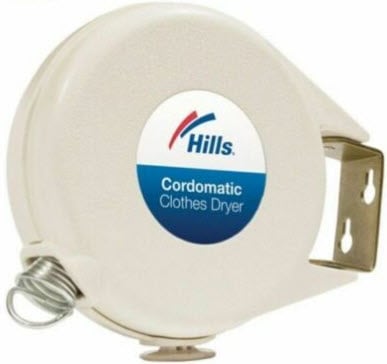 This retractable clothesline from Hills can be used indoor or outdoor and is great for people with limited space.
This set conveniently comes with everything you need to mount the unit to a brick wall so you can start drying your clothes right away.
The line extends up to 15m and is very easy to install and use. The casing is a simple white so it will blend in and won't be an eyesore wherever you decide to place it.
The Cordomatic Retractable Clothesline has a rust-resistant finish so will last a long time.
What We Like:
Small unit
Easy to install
Can be used indoors or outdoors
---
Clothesline Buyer's Guide
As you can see from the products reviewed above, clotheslines come in a range of types, shapes and sizes.
Using a clothesline is simple and will reduce the need to use an electric clothes dryer which will save energy and money.
It's a great, easy way to dry your clothes, especially if you live somewhere with plenty of warm weather.
This buyer's guide will help you identify the most important features so you can find the best clothesline to suit your needs.
Types
Traditional Washing Line
This is a single line that is stretched across the garden from a pole or existing structure such as a fence.
This is an inexpensive option that works well if you have a large outdoor area.
Rotary
This is a common option that offers multiple lines and plenty of place for drying clothes and bedding.
A rotary clothes line is usually fixed in place but can be folded down when not in use.
Retractable
This is the best option if you have a limited area or you don't want a permanent clothesline in your garden.
A retractable line is usually stored in a small, sleek box and you simply pull it to the length you need and hook it in place, when the clothes are dry and you are finished with the line you can simply unhook it and pull it back into the box.
You can find manual and automatic retractable options.
Wall mounted
Wall mounted is the best of both worlds so it is perfect if you don't want a fixed rotary and you don't have anything to hook a retractable line to.
The unit is attached to the wall and can be folded out when needed. This type can often be spacious while remaining unobtrusive and convenient.
RELATED:
Key Features
Durable – the lines should be UV resistant and waterproof, the line material will impact its durability. The frame should be sturdy and firm, metal options tend to be the best material as plastic is often more prone to breaking, bending and damage.
Cable Length – the total length of clothes lines varies greatly from product to product. As a general guideline, 15-30m is great for small spaces and lighter laundry loads, 30 – 40m is good for medium sized gardens and medium laundry needs while 40m+ tends to be more of a heavy duty option. The longer the lines the more clothes you can hang.
Capacity – most clotheslines will have enough capacity for a household load of washing but if you will be washing duvets or pet beds then you may need an option that offers greater capacity.
Ease of use – no matter which type of clothesline you choose, you want it to be easy to take out or fold away. Each type has its own lock/ unlock mechanisms so just make sure it is intuitive and simple to use.
Extra features – there are a couple of extra features you may be offered such as a cover so you can protect your clothesline from the elements when it is not being used. This is particularly useful for outdoor models as it keeps them in good condition for longer. Some options also offer a rain cover that can protect your laundry against light drizzles.
Warranty – the warranty can be a good indication of the confidence of the company and the quality of the product. If possible, go for an option that offers a 5-10 year warranty.
RELATED: