If your car emits stale odors, has a musty smell, or simply needs a freshness boost, car air fresheners are a simple and effective solution. Air fresheners for cars can emit a myriad of pleasant scents designed to efficiently freshen the interior of a vehicle. With so many air fresheners in all kinds of styles, scents, and sizes, which air fresheners for the car are best? That's what we are here to take a look at!
Here is a list of some of the most highly rated and impressively reviewed car air fresheners in Australia. All of these air fresheners work amazingly for cars, trucks, and SUVs, and have been reviewed positively by real-life consumers.
---
1. Moso Natural Air Purifying Bag for Cars (Top Pick)
One of the absolute best car air fresheners is the Moso Natural Air Purifying Bag. It lasts for two years, can be rejuvenated using sunlight, and effectively eliminates orders within a 90-foot radius. Simply place or hang the satchel inside of your vehicle, and you're done. This powerful little bag is totally scent-free and utilizes an all-natural bamboo charcoal formula that absorbs odors and leaves the surrounding air smelling fresh, clean, and pure.
What We Like:
Safely and naturally eliminates bad odors
Freshens up to 90 feet of air
Effortless to use
Lasts up to two years with sunlight rejuvenationPro 3
---
2. Mr&Mrs Cesare Scented Car Air Freshener
This cute little vent clip has been designed specifically for use as an aroma enhancing automobile accessory. Each solid EVA thermoplastic polymer figure clings to your air vent, emitting a fresh and long-lasting scent that circulates throughout your vehicle's interior. With an extensive range of 15 different colour and alcohol-free designer aromas to choose from, it's easy to find a Cesare Scented Figure air freshener for the car you drive.
What We Like:
Adorable and fun little travel companion
Great scent and colour selection
Easy to use
Powerful and effective
What We Don't Like:
Not everyone will like the style
---
3. Little Vanillaroma Trees Air Freshener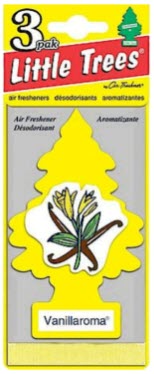 These classic lightweight little trees hang in your car and give off an extremely rich and pleasant vanilla smell. As you slowly peel away the plastic, the smell intensifies. While Little Trees come in all kinds of scents and colours, the bright yellow Vanillaroma scent is hands-down the most popular option. If you need a simple air freshener for car odor improvement, Little Trees are the perfect solution.
What We Like:
Popular and well-known
Rich and bold vanilla scent
Lightweight and disposable
Efficient and inexpensive 
---
4. California Scents Automotive Car Air Freshener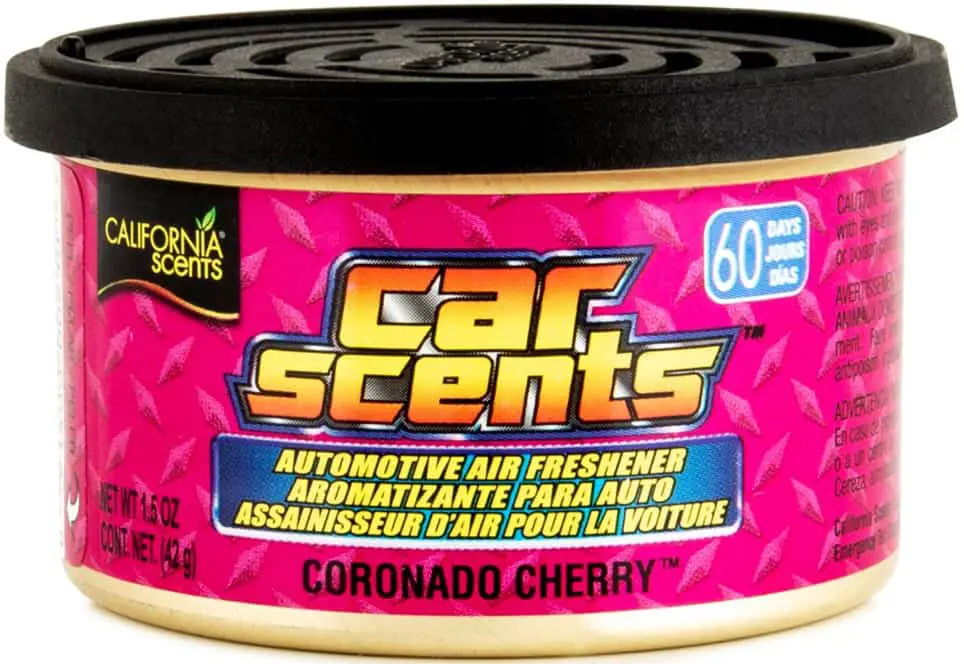 Each can of California Scents Automotive Air Freshener can be set under your car's seat or in the cupholder. These cans last up to 60 days, are organic and biodegradable, spill-proof, and very aromatic. They also come at a great price. The only downside is the limited scent selection.
What We Like:
Inexpensive and easy to use
Organic and disposable
Fits under your seat or in a cup holder
---
5. Ecoya French Pear Car Diffuser
With the aromatic essences of crisp, tree-ripened Queensland pears and hints of creamy vanilla and clove, this air freshener gives off an extremely rich and sophisticated smell. This air freshener has been designed to sit unobtrusively on your car's air vent. The package comes with two pods, and each pod lasts for up to three months. If you've been looking for a balanced fragrance that flows through your whole car effortlessly and has been made with the best ingredients, Ecoya air fresheners are an amazing option to look into.
What We Like:
Amazing aromatic profile
Long Lasting with premium materials
One of the most subtle and stylish vent clips
Utilizes air vent flow circulation
What We Don't Like:
Pricey for a car air freshener
---
6. Ambi Pur Premium Clip Aqua Car Air Freshener
What's great about Ambi Pur car clips is that they truly eliminate unwanted scents. They last for up to 70 days, clip to the vent of your car, and come at a great overall price. You can even control how much scent these clips give off. The only downside is that in dryer climates, these clips do tend to dry out fairly quickly and may not last a full 70 days as promised.
What We Like:
Eliminates unwanted odor
Clips to air vent for efficient circulation
Lets you control the scent output
What We Don't Like:
Doesn't last as long as claimed
---
7. Meguiar's Whole Car Air Refresher Odor Eliminator
A true odor eliminator among car air fresheners, this impressive spray actually removes unwanted smells on a molecular level. With this simple aerosol design, you'll be able to get rid of the smells left behind from pets, smoking, food, mildew, and more. Then, it leaves a pleasant new car smell behind. However, if you don't like aerosol sprays or artificial new car smells, this may not be the best choice for you.
What We Like:
One of the most effective aerosol air fresheners for car interiors
Eliminates unwanted odors at the source, including cigarette smoke
Easy to use in hard-to-reach places
What We Don't Like:
Not ecologically-friendly
Limited scent options
---
8. Sex Wax Oversized Coconut Car Air Freshener
If you like the scent of Mr Zog's Sexwax, this might be one of the best car air fresheners for you. Simply open up the packaging and enjoy a long-lasting summer-sweet coconut fragrance all day. This is a great smelling and inexpensive air freshener that hangs on the rearview mirror. It's also large, so you'll get a big blast of delicious fragrance.
What We Like:
Smells really great
Easy to use
Powerful and effective
What We Don't Like:
Limited scent options
Doesn't last long
---
9. Ambi Pur Citrus Car Air Freshener
Another impressive Ambi Pur freshener, these handy little vent clips smell fresh and work to totally eliminate unwanted smells. We just wish that they lasted longer.
What We Like:
Clean citrus scent
Eliminates unwanted odors
Clips to air vent for efficient circulation
Lets you control the scent output
What We Don't Like:
Doesn't last as long as other options
---
10. Orange Power Lemon Myrtle & Orange Air Freshener
This natural Lemon Myrtle & Orange Air Freshener uses essential oils to produce a unique natural fragrance that isn't overpowering. With 100% Plant-Derived ingredients and no artificial perfumes or propellants, it's a fresh, safe, and clean option among air fresheners in cars. It smells somewhat similar to the tangy "Sicilian Lemon" scented Yankee Candle.
What We Like:
100% Plant-Derived ingredients
Pleasant citrus smell
---
Car air freshener FAQs
How can I make my car air freshener last longer?
If your car air freshener has a plastic wrapper, only peel the wrapper part of the way off. This will significantly extend its life. The same goes for vent clips and cans. A little can go a long way.
Where do you put a car air freshener?
Some car air freshener products can be hung on the rearview mirror, while others clip to a car's air vents or fit under a seat. Other great places to store an air freshener are in the cup holder or in a side door pocket.
What is the most popular car air freshener scent?
Vanilla and "new car smell" are two of the most popular car scents worldwide.
What are the best things to absorb odors?
Bamboo, charcoal, and citrus oils tend to absorb odor effectively. Baking soda and vinegar are also useful odor eliminators.