Bagless vacuum cleaners can be the best way to clean your home efficiently, without the hassle of dust bags. However, with so many options on the market, it can be hard to find the product that is right for you.
In this article we break down everything from suction power to cord length to help you find the bagless vacuum cleaner that best meets your specific needs.
---
1. Dyson Cyclone V10 Vacuum Cleaner (Top Pick)
The slick, lightweight Cyclone V10 from leading vacuum brand Dyson provides all the strong suction you'd expect but without having to deal with a bag, cord or the weight of a traditional device. The machine holds a Dyson V10 motor which spins at 125,000rpm for powerful cleaning that can last up to 60 minutes without fade because of the innovative seven cell battery.
Customers will appreciate the cyclone system filtering bacteria and pollen, as well as the hygienic bin emptying system, direct drive cleaner head, crevice tool and combination tool for optimum dust and debris control.
If you hate the space vacuums with bags take up, you will love the wall mounted drop-in docking that cleanly holds the product without taking up any floor space at all. Need to clean the car? The Dyson V10 easily turns into a handheld powerhead vacuum for maximum cleaning manoeuvrability when you need it most.
What We Like:
Powerful and easy to use
Cordless
Wall-mounted charger
Battery life of up to 60 minutes use
What We Don't Like:
Rechargeable battery is not replaceable
Compact dust compartment needs regular emptying
Expensive
---
The Navigator Lift-Away by Shark has a swivel function for easy manoeuvrability and an innovative Brushoff/ Shutoff button enabling you to switch between hardfloor and carpet cleaning in an instant.
The vacuums easy switch to handheld means customers can use the product to clean all areas of the home, and even the car with ease. The sealed system with HEPA filter ensures dust and bacteria go straight from dust compartment to bin, for optimum allergy combatting and hygiene.
Customers who like edge to edge cleaning will appreciate the well-designed attachments ensuring each and every crack and crevice in the home is free from dirt. Although the product is corded, the strong suction and lightweight build mean that a wall tether is barely noticeable during use.
What We Like:
Lightweight and easy to move
Strong suction cleaning suitable for pet hair
Handy set of attachments
Easily switches to handheld
What We Don't Like:
Small dust compartment requires regular emptying
Cord may not be as long as some customers may like
---
3. Electrolux UltraFlex Origin Vacuum Cleaner
This corded vacuum cleaner uses a 3-level height adjustment and motorized brush roll cleaning for easy maneuverability and effective maintenance. Large smooth wheels for carpet mean the UltraFlexcan be moved with minimal effort, whilst avoiding any annoying marks being left on flooring.
Customers will love the 9.1m cleaning radius of the product afforded by the generous 6.4m cord and 2.4m hose. The HEPA filter system adds even more cleaning power, ensuring bacteria and pollen is totally contained going straight from vacuum to bin without any mess.
Another standout feature is the choice of three suction power settings and handy crevice tool, for even more control over flooring dust and debris removal from carpets and hardwood floors.
What We Like:
Large cleaning radius
HEPA filter system
3-level height adjustment
3 choices of suction power
What We Don't Like:
Small dust compartment needs emptying regularly
Small cleaning path of less than 30cm
---
4. Miele Blizzard CX1 Excellence Bagless Vacuum Cleaner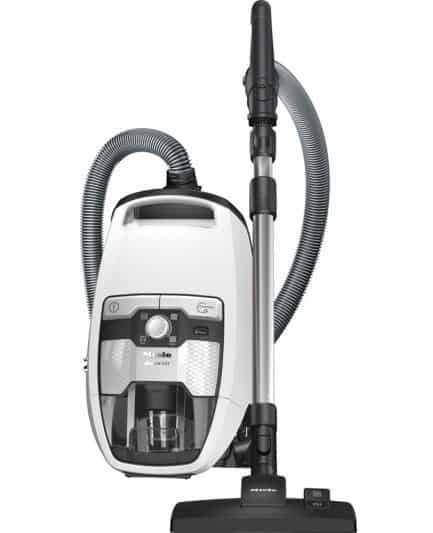 The smartly designed Blizzard CX1 from Miele focuses its innovation around Vortex technology which uses 100km/h suction and airflow to effectively draw dust and debris from all types of flooring. Maneuverability is never an issue with the Miele bagless vacuum as it has a huge 11m cleaning radius, as well as an easily extended telescopic cleaning tube for those hard to reach spots.
Customers will love the HEPA filter ensuring that pollen and bacteria is filtered straight into the dust compartment which has a convenient click to open feature so that you can drop debris in the bin easily.
What We Like:
11m cleaning radius
Vortex suction design
Comes with accessories
Easy to empty
What We Don't Like:
Pet hairs might get stuck on roller brush head
Robust design may cause product to be heavy to move
---
5. Electrolux SilentPerformer Cyclonic Animal Vacuum
The Electrolux Animal Vacuum uses powerful suction suitable for homes with pet hair, all whilst standing true to its SilentPerformer name, getting the job done with minimal noise disruption.
Customers will love the HEPA filter providing extra bacteria and pollen control, efficiently filtering debris into the easy-empty dust compartment. For those hard to reach areas, the 3-in-1 crevice tool gives the Animal vacuum even further reach.
What We Like:
Suction strong enough for homes with pets
Handy multi-tool
Long-handled cleaning tube
Easy-empty dust compartment
What We Don't Like:
Tools onboard may not be 100% secure during use
Turbo feature can be quite noisy
---
Bagless Vacuum Cleaner Buyers Guide
A vacuum purchase is not just a financial investment, but an investment into the maintenance of your home, so it really does pay to make an informed choice. 
There are lots of factors to consider, including ease-of-use, power, weight and maneuverability. How do you make sure you buy a hoover that ticks so many boxes? A great start is considering the key aspects of bagless vacuums first. 
Is a Bagless Vacuum Cleaner Right For You?
What is a bagless vacuum anyway? While a traditional vacuum cleaner captures dirt and dust in a cloth or paper bag, bagless vacuums use filters to catch the dirt in a container or chamber, which must be emptied directly into the rubbish.
Let's take a look at some of the pros and cons of this type of appliance vs the traditional bagged vacuum variety:
Advantages
Cost savings – You need to purchase replacement bags. You may need to replace the filters, however, this will be much less frequent.
No running out of bags  – No need to maintain an inventory of bags (and risk running out).
Eco-friendly – Vacuum bags are just extra material that you are throwing into landfill. Bagless vacuums remove this unnecessary waste and also give you the option of emptying directly into compost.
More control – You can see, access, and dispose of the dust and debris in your vacuum more easily. 
Disadvantages
Messier – You're much more likely to spill dust and dirt on the floor or around the bin with a bagless vacuum. This causes extra work and exposes the operator to dust and allergens. Even without a spill, the operator gets exposed to far more dust and allergens with a bagless vacuum, simply in the process of emptying the chamber.
Maintenance – You will need to clean or replace the filter at regular intervals. Further, the cup or container that catches the dirt needs to be washed and dried.
For a further comparison of bagged vs bagless vacuums, check out this helpful video:
Upright vs Barrel/Canister Vacuums
Bagless vacuums generally come in two varieties: Upright Cordless Stick Vacuums and Barrel (or Canister) Vacuums.
Upright vacuum cleaners have the motor and suction contained all in the same unit. The clear advantage here is that you don't need to drag a canister around the house and worry about the hose. They also remove the need for bending over to fiddle with settings on the barrel. They can, however, be heavy and clunky and some users find them more difficult to efficiently clean with them. Worth noting is the newer models, often called stick vacuums, popularised by the likes of Dyson, are much lighter than traditional upright vacuums. Stick vacuums are also much easier to store and are often mounted to the wall to take up as little floor space as possible.  Be sure to opt for a corded variety if long run time is important.
Barrel vacuums are lighter weight, thanks to the motor not being integrated into the upright part of the unit. The narrower suction pole and attachment also translates to them being more maneuverable, meaning they are better at getting around furniture and into hard to reach places. They are also often more powerful, as with their motor on the floor, there is less limitation on its size. This can translate to better suction. Another plus, is the wide range of accessories available for this type of machine, such as for different floor surfaces, or for furniture or upholstery. The obvious downside of canister vacuums is the need to drag the barrel around behind you. It can get caught and stuck behind furniture and corners and can also cause damage if care is not taken.
Other things to consider when choosing your vacuum:
Is It Easy For

You

To Use? 
Every vacuum is easy for somebody to use but what you have to decide is if it is easy for you to use. 
Sometimes an upright vacuum cleaner makes more sense to a household because they can be more compact to store, and easier to carry and maneuver. Although, keep in mind that upright bagless vacuum cleaners can be heavier than canister vacuums. 
Try and ignore why a product would be easy for 'anyone' to use and think instead if it would be easy for you to use. What are your specific vacuum cleaner needs? 
Will It Do The Job?
The last thing you want is your vacuum to run out of battery. Consider the size of your home and the amount of time it generally takes to vacuum. Large homes will usually benefit from corded varieties of vacuums as these appliances tend to chew through batteries when used for extended periods. The battery run-time is, however, increasing with every new release, so be sure to check the latest models of cordless vacuums.
Consider also the length of the power cord and your wall sockets. Will it suit your home?
Every vacuum boasts great suction but in reality, where you really want especially strong suction is if you have pets. In this case, a dedicated pet vacuum is recommended. These offer the best cleaning performance in the conditions created by cats and dogs.
Consider also the type of flooring in your home. Does the vacuum have the appropriate settings? Are you paying for accessories you won't need?
RELATED: Best Replacement Battery For Dyson V6
Is It Easy To Maintain?
If the product works well, you'll want to keep it in great condition, hopefully for many years to come. Check that features that need maintaining like an easy-empty dust compartment, anti-allergy filter, and roller brush are all easy to clean and manage. 
Features like pollen filters and rechargeable batteries can also be expensive to replace annually or may not be replaceable at all. Checking those details before you make a purchase will save you money and time in the long-run. 
Vacuums may come with new, modern features, but realistically those features won't stand the test of time if you find the product doesn't clean like you need it to, or it is so uncomfortable to use you hate using it. 
Consider what your vacuum needs are and stick to those as your key prerequisites, avoiding getting charmed by bells and whistles that cost more, but potentially don't enhance your cleaning experience much overall. 
Consider A Robot Vacuum
While they haven't quite taken hold yet in Australia, more and more homes around the globe are utilising robot vacuums for the convenience they offer in home cleaning.
With advanced room mapping technology, robot vacuums are able to learn as they go and will remember the layout for next time. They even return to the base for a charge if the battery is running low. 
Some are even able to self-empty, meaning they can continue the job until the whole house is finished, without any assistance. If you're willing to embrace the future, this may be the best vacuum for you!
Handheld Vacuums
Another appliance many households find useful is a handheld vacuum. Whether for cleaning the car, or small spills, these can be a very useful item to have handy as they save you getting out the big vacuum if not necessary.